DONETSK (Sputnik) — The negotiator of the self-proclaimed Donetsk People's Republic (DPR) in the Minsk talks, Denis Pushilin, called on the leaders of Germany and France to respond to Kiev's violations of the Minsk agreements.
Pushilin urged the European guarantors of the Minsk-2, namely the leaders of Germany and France, to "respond to the numerous violations of the agreement by the Ukrainian side," Pushilin was quoted as saying by the Donetsk news agency on Saturday.
DNR negotiator also urged Berlin and Paris "to intervene in the negotiation process in order for Kiev to adopt the concrete actions to improve the situation in Donbass."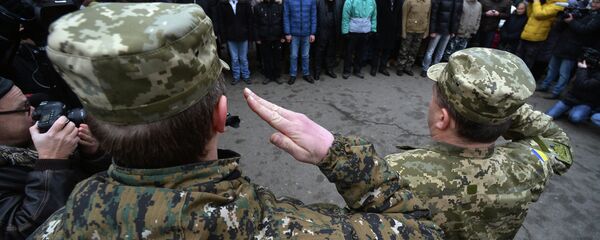 The key provisions of the Minsk agreement, which Germany and France, along with Russia and Ukraine have developed in February, stipulated a ceasefire between Kiev forces and eastern Ukrainian militias and heavy weaponry withdrawal from the line of contact in Donbass. However, both sides to the Ukrainian conflict have repeatedly accused each other of violating the peace deal.
On Wednesday, Pushilin said that if Kiev pulled out of the Minsk agreements, it would only mean war.
In July, the so-called Normandy Quartet, comprising Russia, France, Ukraine and Germany, agreed on the withdrawal of weapons with caliber less than 100-mm and the establishment of a 18-mile demilitarized zone at the contact line separating the Kiev-led forces and Donbass militias.
The warring sides were due to sign the withdrawal deal last week, but a source in the talks said that Kiev refused to remove its weaponry from four specific areas, while the militias demanded that the entire contact line be cleared of such weapons.