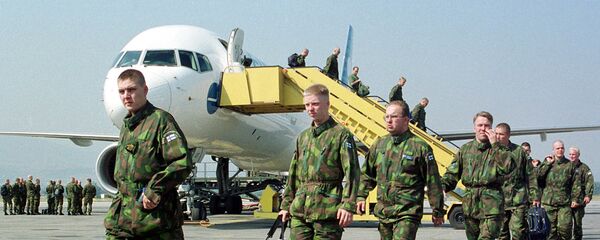 The Aland Islands, an autonomous and demilitarized archipelago in the Baltic Sea that belongs to Finland, are not in danger of any Russian "invasion," Finnish President Sauli Niinisto said, according to Yle.
Unfounded speculation about the islands' alleged danger from a sudden appearance of Russia's "little green men" and subsequent invasion of the region should stop, the president added.
Two weeks ago, Finland's Minister of Defense Jussi Niinisto, who is the chief defender of the entirety of Scandinavia from a "Russian invasion," said a war in the Baltic Sea will soon take place after Russia decides to invade Scandinavia. That's why, according to the defense minister, Finland must militarize the Aland Islands to properly defend against "invading Russian troops."
The Finnish president, who also happens to have the same last name as the defense minister, visited the Aland Island yesterday and spoke with local government representatives about the issue of de-militarization on the islands. In the end, Finnish officials concluded that there isn't any evidence that the geopolitical situation around the region has changed; therefore, all paranoid speculation about what might happen is unfounded, Yle reported.
Niinisto the President added that he won't raise the question of the Aland Islands with the Russian government. Finland will henceforth support the de-militarized status of the Aland Islands during peace time; during a potential war, however, the islands must stay neutral, as agreed upon the 1921 Geneva Convention, the President said.
As of late, Scandinavian countries have been on high alert, fearing for no reason an alleged Russian threat in the area.