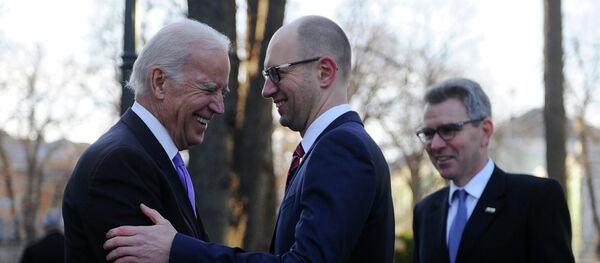 3 December 2014, 00:13 GMT
Ukrainian Prime Minister Arseniy Yatsenyuk announced that he will propose the new list of the cabinet ministers in September for the country's parliament to approve.
Members of the Ukrainian parliament, Verkhovna Rada, say that the future resignations and appointments must be coordinated with the US Embassy in Kiev.
"In America we saw the assessment of [Ukrainian] ministers. We understand that among those with whose work the US government is satisfied are Natalie Jaresko [an American-born investment banker and the current Finance Minister of Ukraine], the Minister of Economic Development (Aivaras Abromavicius), the Minister for Agriculture and Food (Oleksiy Pavlenko), who promised to privatize the public land, and the Minister of Infrastructure (Andriy Pyvovarsky). American and European businesses have their own interests, and they don't hide it," said Mykola Tomenko, a member of the Verkhovna Rada, as cited by RBK Ukraine.
According to one of the deputies of ministers, Geoffrey Pyatt, the US Ambassador to Ukraine is a regular guest at the offices of Kiev politicians.
"The Ambassador [Pyatt] took out his notes and in a stern tone listed things that we had to do, then my boss briefly told him what has been done so far," the deputy minister said as cited by RBK Ukraine.
US lobbyists also regularly visit Ukraine's Cabinet of Ministers. Martin Nunn, CEO of Whites Communication, constantly hangs around the parliament.
September is expected to be hot in the Verkhovna Rada. In addition to Yatsenyuk's expected announcement of the new cabinet ministers list, the parliament will vote on new constitutional amendments, including federalization of Ukraine and special autonomous status of the self-proclaimed people's republics of Lugansk and Donetsk.