WASHINGTON (Sputnik) — The policy proposals includes the introduction of body cameras to record police interactions, community oversight, improved training for law enforcement officers and police demilitarization, among other measures, according to the campaign's website.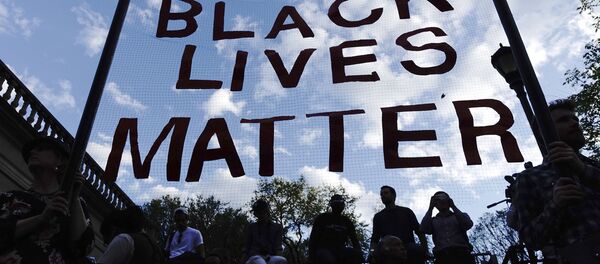 20 August 2015, 04:05 GMT
In addition, the activists suggested decriminalizing public consumption of alcohol, possession of marijuana and trespassing.
The Black Lives Matter movement was established in the wake of the fatal shooting of African-American teenager Trayvon Martin in Florida in July 2013, and has since become a political force in the United States.
More than one-third of Americans have a favorable opinion of the movement, according to CNN/ORC poll.
Black Lives Matter has recently started to engage in debates with 2016 US presidential candidates, including Bernie Sanders and Hillary Clinton.
The Campaign Zero website has listed presidential contenders' proposals addressing the problems of police violence and high imprisonment in the United States.
"The next President needs to tell the truth about police violence and urgently enact a comprehensive agenda to address it."
The most comprehensive policy proposals have been introduced by Democratic presidential candidates Bernie Sanders and Martin O'Malley, according to the website.
Among the Republican candidates, only Rand Paul has suggested a limited plan to end for-profit policing. He did not address, however, other areas of concern such as limiting use of force, according to the website.
In the past year, the United States has been hit by mass protests over police brutality and racism after a series of incidents involving white police officers using excessive force against African Americans gained extensive media coverage.