With nearly $400 billion spent on developing the F-35, the next-generation fighter jet which is still not entirely combat-ready, the Pentagon has touted the aircraft's high-tech weapons systems. Equipped with stealth technology and electronic warfare capabilities, the military is also considering laser weapons, as well as a mysterious pod-mounted cyberattack system.
The fact that all of these weapons have proven barely functional has done little to derail the project.
But on Thursday, the Pentagon tested a more tried-and-true aspect of the fighter: its wing-mounted machine guns.
"An F-35A fired 181 rounds from its four-barrel, 25 millimeter Gatling gun during a ground test at Edwards Air Force Base earlier this month," reads a press release from the US Marines. "The gun is embedded in the F-35A's left wing and will provide pilots with the ability to strafe air-to-ground or air-to-air targets."
The gun is also concealed behind a small panel, which pops open during firing.
"In integrating a weapon into the stealthy F-35 aircraft, the gun must be kept hidden behind closed doors, reducing its radar cross section, until the trigger is engaged," the statement reads. "The tests certify the gun's ability to spin up and down correctly."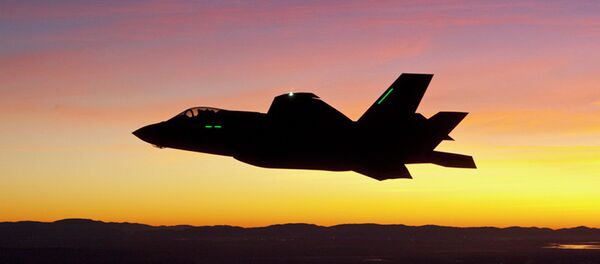 Despite hope that the successful machine gun tests prove the F-35's potential in traditional dogfights, earlier tests have proven the aircraft remarkably inept at combating older fighters.
According to multiple reports, the F-35 would fail hopelessly if pitted against not only its Russian and Chinese counterparts, but also the Pentagon's own F-16, the fighter it's meant to replace.
"The F-35 will find itself outmaneuvered, outgunned, out of range, and visible to enemy sensors," said Bill French, an analyst with the National Security Network, according to Stripes.
French said the new fighter would not hold up to the Russian MiG-29 Fulcrum or Su-27 Flanker. He described the F-35 as "Thunder without Lightning."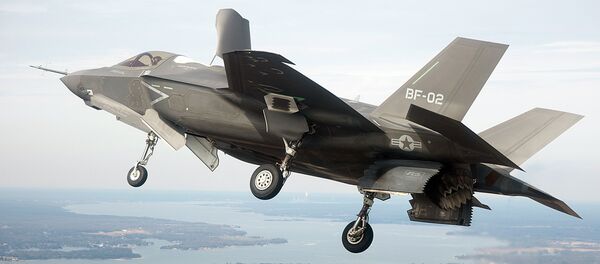 16 August 2015, 18:33 GMT
This was backed up by testimonial from an F-35 test pilot, published on the blog War is Boring. In a mock dogfight between an F-35 and F-16, the pilot described the joint strike fighter as inferior, unable to outperform in "basic fighter maneuvers in offensive, defensive, and neutral setups at altitudes ranging from 10,000 to 30,000 ft."
The F-35 has undergone a number of setbacks. Its fuel tank had to be redesigned after it was found to be prone to explosion. The jet was also found to be vulnerable to lightning strikes, which could overpower its electrical systems.
While the initial Gatling gun tests seem successful, that gun port cover looks a little haphazard, to say the least. Flying at top speed, one could imagine the door breaking free, forcing the plane's designs back to the drawing board.
Time will tell.