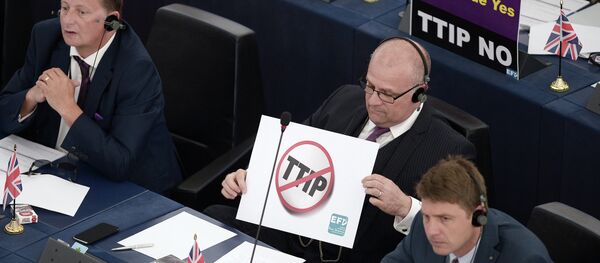 12 August 2015, 16:20 GMT
MOSCOW (Sputnik) — The Transatlantic Trade and Investment Partnership's (TTIP) stated goal is to ease the flow of goods and services across the Atlantic. The pact seeks to create the world's largest free trade zone, encompassing over 60 percent of global production.
The Comprehensive Economic and Trade Agreement (CETA) is a similar agreement between the European Union and Canada.
"New milestone: More than 2.5 million Europeans have signed our ECI [European Citizens' Initiative] against #TTIP and #CETA," the organization said on Twitter.
Anti-TTIP activists have repeatedly pointed out that the TTIP deal has been negotiated in unusual secrecy, raising fears that the agreement could benefit multinational corporations and corporate rights-holders at the expense of sovereign nations and consumers.
In July, the Stop TTIP movement said it had planned large-scale anti-TTIP protests across Europe for October.