BEIRUT  (Sputnik) — More than 40 peaceful protesters were detained by police in Lebanese capital Beirut on Wednesday during an anti-government rally, a representative of an activist group told RIA Novosti.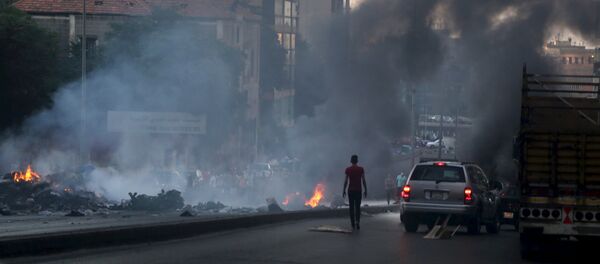 25 August 2015, 19:45 GMT
On early Wednesday, hundreds of people gathered at the center of Beirut to march in solidarity with those who had been protesting against garbage collection crisis last week. The rally began peacefully, but later turned violent as the police used tear gas, rubber bullets and water cannons against the activists.
"We came here to protest peacefully, our guys tried to calm down the provocateurs in order to avoid clashes. We asked our companions to leave the area and continue the rally tomorrow. When there were only provocateurs and us, along with a group of people who had little time to leave, the police began beating everyone. About 40 of our people were detained and delivered to the police stations…," a senior member of the group behind the demonstration said.
The rest of activists went to protest to the police stations in Beirut, demanding the release of their comrades, the group representative added.
Last week, thousands of Lebanese activists took to the streets of Beirut to protest against government corruption and political inaction amid a spreading garbage crisis. The action turned violent as police applied measures against protesters, and dozens of people were injured and hospitalized.
Following the incidents, Lebanese Prime Minister Tammam Salam vowed justice and threatened to resign if the next cabinet session did not yield results.
The problem of garbage in Lebanon became sharp after the country's main landfill was closed in July. Since then, thousands of tonnes of garbage have been left uncollected as the officials fail to take measures.