Multiple Syrian rebel groups said the Nusra Front had been alerted by Turkish intelligence, McClatchy reported on Monday.
In a statement, Turkish Prime Minister Ahmet Davutoglu's office denied "the allegations in the strongest terms possible. The idea that Turkey, a key supporter of the Train and Equip Program, would seek to undermine its own interests in Syria is ludicrous."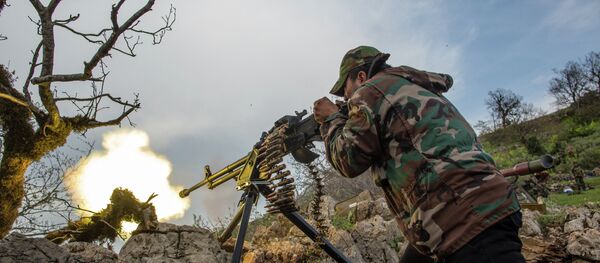 25 August 2015, 14:54 GMT
Late last month, 54 US-trained Syrian rebels and their commander entered a Syrian town along the Turkish border, where they were immediately attacked by the Nusra Front. The commander and about 20 of his men are still in Nusra custody, McClatchy reported.
The fighters were graduates of a $500 million program to train Syrian rebels identified as moderate by Washington for the fight against the Islamic State in Syria.
Nusra says the trained rebels are an American front that will target Islamists, even though the group insists that it will only take part in operations against the Islamic State, which Nusra is also fighting, McClatchy reported.
The Turkish prime minister's office added that, despite widespread belief that it cooperated with Nusra in the past, it considers the group a terrorist organization and has no official contact.
"We regard the claims as part of a defamation campaign against Turkey. In the past, we have repeatedly stated that the government of Turkey designates and treats al Nusra Front as a terrorist organization. There has been absolutely no change in our policy toward the organization."
An anonymous Turkish intelligence official told McClatchy that the capture of the rebels resulted from of members of the force willingly sharing their movements on social media.
"Everyone was talking about that (deployment)," the official said. "Many groups on the ground, the (Islamist) opposition all were talking about when and how (the group) might enter Syria. There might be resentment because the incoming forces had good money, education and training. No one wanted them to be successful."
Turkey has long criticized the train-and-equip program. On Tuesday, Foreign Minister Mevlut Cavusoglu said Nusra's capture of the rebels "justified" the criticism.
"We have been saying for a long period that in order to fight against (the Islamic State), the T&E program alone will not be enough, but can be a supportive element."