ZHUKOVSKY (Sputnik), Alexander Mosesov – Canadian aerospace and transportation giant Bombardier Inc. has not given up plans to build its Q400 planes in Russia, Mark Gilbert, Director of Business Development and Sales for Russia and CIS at Bombardier told Sputnik on Thursday.
In 2014, Russia's Rostec and Bombardier put on hold a joint venture for a $3.4-billion plan to assemble Q400 regional turboprop aircraft in Russia due to complex regional politics.
"It's [the joint venture] something that in the future we would like to happen. I think the biggest thing we need is big order to justify the assembly here [in Russia]," Gilbert said on the sidelines of MAKS-2015 International Aviation and Space Salon.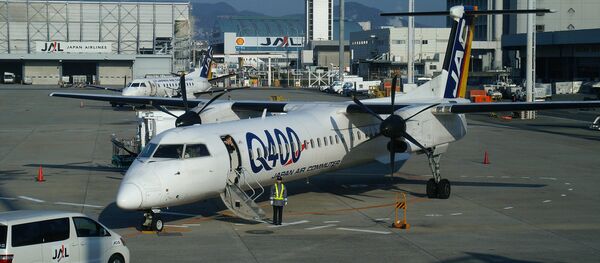 He added that the aircraft would fit well in the weather and runway conditions of Russia's Far East.
"The Q400, that has particular usages, long distances, working in cold and hot weather, [suitable for] gravel runways is perfectly suited for the [Russian] Far East," Gilbert said.
Canada introduced what it calls "Special Economic Measures" against Russia in March 2014, following a Crimean referendum in which a majority of voters backed seceding from Ukraine and reuniting with Russia.
Bombardier is presenting at the MAKS-2015 air show, along with several other Canadian companies, among 760 companies from 35 countries overall.
The large-scale aviation and space event kicked off in the Russian town of Zhukovsky, near Moscow, on Tuesday and is due to finish on August 30.