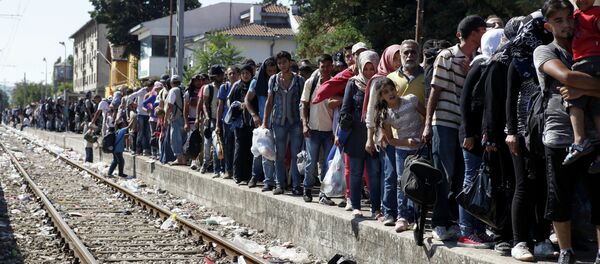 28 August 2015, 06:46 GMT
MOSCOW (Sputnik) — The boats sank near the Libyan coastal town of Zuwara. The first vessel to go aground had around 50 undocumented migrants on board, while the second, which sank later, was carrying some 400 people. Rescuers managed to save only about half of the passengers.
A representative of Doctors Without Borders, who was at the scene, was cited by The Guardian on Friday as saying that around 160 bodies had been found floating near the partially-submerged fishing boat, with 40 more trapped inside.
The maritime accident is the most recent tragedy in a series of shipwrecks off the northern Libyan shore. Lethal incidents involving EU-bound migrants have been a weekly occurrence in the Mediterranean this month, with hundreds reported dead or missing.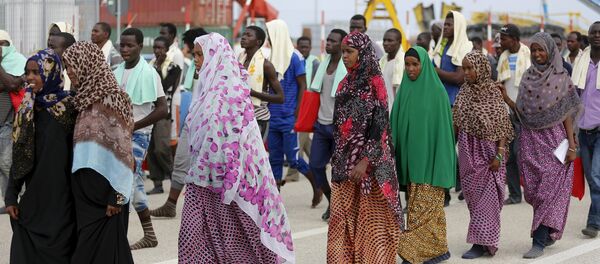 27 August 2015, 18:46 GMT
On Wednesday, over 50 bodies were discovered by the Swedish coast guard below the deck of a stricken smuggler boat, bound for Italy. They reportedly suffocated in the crowded hold. Over 400 survivors were taken to safety in Italy.
Over 40 people died in an overcrowded boat on August 15, according to the Italian Navy. On 5 August, an estimated 200 people drowned in Libyan waters when their vessel sank, the United Nations said.
The International Organization for Migration (IOM) has recorded 2,373 cases of migrants who died while attempting to reach Europe by sea this year. Thousands more have been picked up from dingy boats and brought to temporary asylum centers in southern Europe.