On August 29, Ukrainian President Petro Poroshenko tweeted his fellow countrymen to wish them a happy Aviation Day, claiming that Ukraine has a hundred-year history of aircraft construction. He even went so far as to say that "up to this day the whole world is flying on Ukrainian wings."
In order to punctuate his bold claim, Poroshenko attached a photo of aviation designer Igor Sikorsky to his tweet.
However, if the prominent Russian-American designer were alive, he would be very surprised by Poroshenko's decision to herald him as a Ukrainian national hero.

29 August 2015, 10:02 GMT
Igor Sikorsky was born in Kiev, then part of the Russian Empire, in 1889. It is worth mentioning that the city of Kiev had always been considered a Russian city and a symbol of Russian national heritage. However, after the October Revolution the Ukrainian Soviet Socialist Republic was established, and in 1934 the city became its capital.
In 1913 Igor Sikorsky designed the world's first multi-engine fixed-wing aircraft, the Russky Vityaz (the Russian Knight). Nearly simultaneously, the genius aviation designer constructed the Ilya Muromets (Sikorsky S-22), the world's first airliner, at the Russo-Baltic Carriage Factory (RBVZ) in Riga.
After the October Revolution of 1917 Sikorsky was forced to leave for the United States. In 1923 the Russian immigrant founded the famous Sikorsky Aircraft Corporation, originally known as "Sikorsky Manufacturing Company."
The prominent designer was an aviation pioneer in both helicopters and fixed-wing aircraft. Sikorsky Aircraft Corporation remains one of the leading helicopter manufacturers and a leading American defense contractor, known for producing the UH-60 Black Hawk and SH-60 Seahawk. 
In 2010 in an interview with the Russian media resource Pravmir.ru, Igor Sikorsky's son Sergei underscored that despite his father having left for the United States in 1919, he remained a true Russian patriot devoted to the Russian Orthodox faith.
"The Sikorsky firm was a Russian company where Russian specialists worked. There were a number of specialists from Saint-Petersburg in his company," Sergei Sikorsky said.
"To the last Igor Ivanovich remained a widely respected citizen [of Stratford]. He had made a lot for his Russian compatriots [in the United States]: the immigrants opened a club, a school, built St. Nicholas Russian Orthodox Church and even established a Russian opera house," Sergei Sikorsky added.  
Igor Sikorsky supported Russian migrants in the United States and used to hire mostly Russian engineers and constructors as employees. In the late 1920s, Sikorsky contributed greatly to the creation of the Russian Orthodox community in Stratford, Connecticut.  
The question remains open: why does President Poroshenko believe that the unique heritage of the famous helicopter designer Igor Sikorsky belongs to modern Ukraine?
The devil is always in the details: the Ukrainian President is apparently unaware of the fact that Igor Sikorsky's father was a member of the Kiev Club of Russian Nationalists. Professor Ivan Sikorsky of Saint Vladimir University, Kiev, was a Russian publicist, psychiatrist, and a celebrated member of the right-wing Russian community in Kiev. 
It seems that Petro Poroshenko would be very surprised if he knew that Ivan Sikorsky repeatedly denounced the idea of the "Ukrainian" national identity as "utter nonsense." In his address to Kiev Club of Russian Nationalists on February 7, 1913 Ivan Sikorsky emphasized that there was no such ethnic group as "Ukrainians," and no such land as "Ukraine."

29 August 2015, 09:58 GMT
According to Sikorsky, both expressions were invented artificially and originated from the outdated administrative term "okraina", referring to land on the "frontier" of the Russian Empire. Sikorsky elaborated that the south-western territories of the Russian Empire, known as Malorussia (modern Ukraine) had been inhabited by ethnic Russians since the times of Kievan Rus.
It is not the first time when modern Ukrainian authorities have declared Russian, Jewish, German, or even Danish nationals to be "Ukrainians." 
But the truth of the matter is that none of them considered themselves Ukrainian. For instance, the so-called list of the '100 Greatest Ukrainians' include Russian-Danish scientist Vladimir Dal, Russian author Mikhail Bulgakov, Israeli politician Golda Meir, famous Yiddish author and playwright Sholem Aleichem, Russian engineer and spacecraft designer Sergei Korolev and others.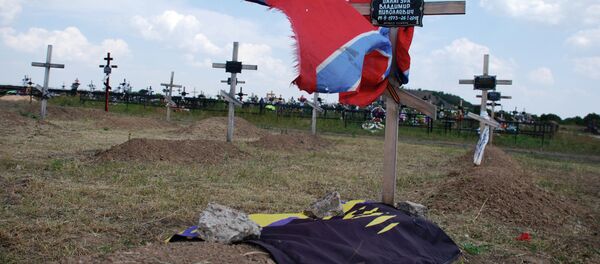 29 August 2015, 06:09 GMT
Needless to say, together with Igor Sikorsky, these people would have been really puzzled by the modern Ukrainian trend of re-writing history and hijacking the memory and glory of other nations. To call such people Ukrainian would be as ridiculous as claiming that Rudyard Kipling was an Indian or that Richard Dawkins was a Kenyan.
Curiously, Petro Poroshenko neglected to attach a photo of Oleg Antonov, a prominent Soviet aircraft designer and founder of the Antonov Design Bureau in Kiev, also known as the Antonov Aeronautical Scientific-Technical Complex (Antonov ASTC). Under Antonov's leadership, Ukrainian and Russian Soviet constructors created the legendary An-aircraft, including the massive An-124 Ruslan and An-225 Mriya strategic airlifters.
However, while trying to get rid of the country's Russian and Soviet heritage, the new Kiev authorities prefer to use images and figures familiar to the Western public.