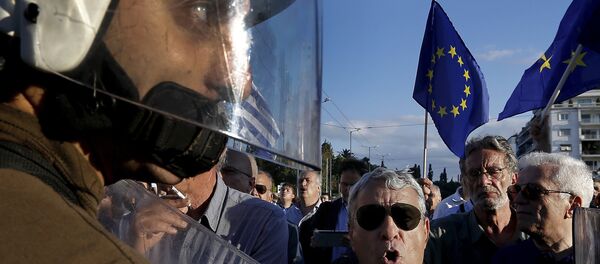 29 August 2015, 17:57 GMT
MOSCOW (Sputnik) — The majority of Greeks share the idea that their country should stay in the eurozone, CEO of MRB pollster Dimitris Mavros told Sputnik.
"I think the Greeks continue not to be ready to exit the eurozone. The first data on the answers to this question [whether Greeks want to leave the eurozone or not] show that the percentage of the Greeks, who keep thinking that they should stay with the euro, is still very high," Mavros said.
In May, a poll conducted by ICM Research exclusively for Sputnik revealed that 58 percent of Greeks polled would like to keep the euro.

The Greek central bank has said that the country would have to leave the eurozone if unable to secure a bailout agreement with its lenders to restructure its multibillion debt. Following months of talks, the Greek government and its creditors approved the third bailout deal in exchange for austerity reforms.
Earlier this month, Greek Prime Minister Alexis Tsipras announced his resignation to pave the way for early elections in a bid to secure popular support for his position on the bailout agreement.