MOSCOW (Sputnik) — Hungary has finished construction of an anti-immigration fence on the country's southern border with Serbia, local media reported, citing the Hungarian Ministry of Defense.
"Two days before the planned deadline of August 31, the first part of the fence at the [Serbian] border has been completed," the statement published Saturday reads, as quoted by the Hungarian media.
According to the statement, the erected fence will be accompanied by a more secure 13-foot wall, which is currently under construction.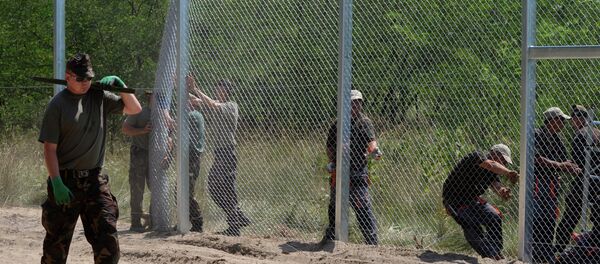 On Thursday, Hungary recorded a new daily record for the number of migrants arriving from Serbia with some 3,241 refugees, including 698 children, having crossed the Hungarian-Serbian border.
On July 6, the Hungarian parliament passed legislation approving the construction of a 13-foot fence along its 110-mile southern border with Serbia to deter asylum seekers from using the route to enter Europe.
The move came in response to an unprecedented flow of undocumented immigrants into Hungary. Budapest claims over 60,000 migrants entered the country illegally through its southern border in the first six months of 2015.