It has now been over 18 months since Ukraine's February 2014 coup, dubbed by the country's new ruling elites as a "revolution of dignity." Although the country positions itself as being pro-EU and against Russia and its own post-Soviet past, it has in that time done remarkably little to make this goal a reality.
Now Ukraine faces another test, as the populace has to decide whether the elites now in power have any legitimacy, which opinion polls do not appear to suggest. Corruption and economic decline now outrank the Donbass conflict as Ukrainians' source of concern, and Ukraine's government appears to be unable to tackle any of the three.
Ukraine has previously been able to dismiss these issues by retreating to the refuge of patriotism, with official rhetoric claiming that the country is at war with Russia and everything it stands for. However, popular faith in this rhetoric appears to be waning, and with it the "European" rhetoric's very mandate.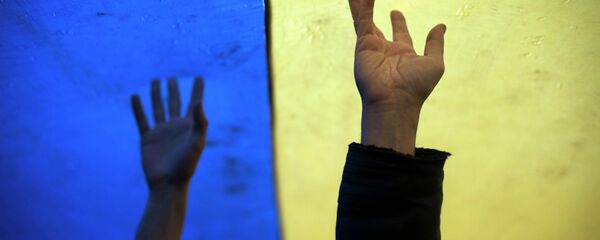 29 August 2015, 09:51 GMT
Unrecoverable Losses
While former president Viktor Yuschenko, who took power following the 2004 Orange Revolution, made his first foreign visit as president to Moscow, its "founding act" after the 2014 coup was to repeal the law which granted the Russian language regional status.
The law was repealed by Ukraine's parliament and signed by its chairman Oleksandr Turchynov, who then as acting president said he would veto it, and never signed it. However, the act and the atmosphere surrounding it led to uprisings in predominantly Russian-speaking parts of the country, particularly in Crimea.
Ukraine's 90,000-strong military force standing at the front lines of the Donbass conflict has been described as a real-life Chekhov's gun, which must be used at some point to invade the self-proclaimed republics.
Its inevitability also makes it extremely predictable. On August 20, Donetsk People's Republic spokesman Eduard Basurin presented what he said were leaked invasion plans from Ukraine's General Staff. According to the said plan, Ukraine's military would surround Lugansk and Donetsk while moving the rest of its forces in the direction of Uspenka, near the Russian border. Observers, however, noted that there is no real alternative to the alleged plan considering the force's side and composure, even if it was in fact leaked by Ukraine's military.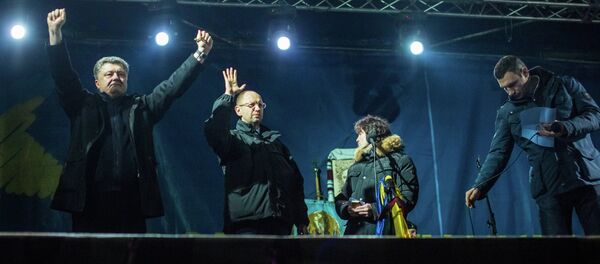 28 August 2015, 12:47 GMT
Means to an End
The political consolidation of Ukraine's ruling parties occurred a day after the congress of another new party, Nash Kray (Our Region), composed of former local and regional-level officials. Many of them hailed from the now-disbanded Party of the Regions, the ruling party under Yanukovych.
Neither grouping's current political prospects are clear, although they are both notable because of their level of administrative resources compared to those of ideological parties contending in the elections, such as the nationalist Svoboda and the leftist party Left Opposition. The other "executive" party, Yulia Tymoshenko's Batkyvschina, does consistently gather around 10 percent in the polls, but its prospects for growth are unclear.
If the election's results do lead to a power struggle between national and regional powers, it would create an executive conflict that could potentially make the country ungovernable from the center.
Although Poroshenko is trying to stop this via constitutional reform, his vertical power is already beginning to show visible cracks. On Thursday, an absolute majority of Zaporozhye region's legislators voted to provide the region with a "special status," which the central government rejected. It did however, plant the seeds for a political crisis which Poroshenko's government may not have the legal or even popular power to resolve.