The move was legal and did not break any international law or agreement. Yet in keeping with the best traditions of demonizing Russia's every move (real or imagined), some apparently accused Spain of nothing short of abandoning the restrictive measures the West imposed on Moscow, betraying Ukraine and sleeping with the enemy.
The decision caused particular outrage in Great Britain. Why?
Ceuta, a city bordering Morocco, is located less than 20 miles away from Gibraltar, a small British overseas territory claimed by Spain. Moreover, Madrid is often criticized for adopting a hardline stance on what some lovingly call the Rock.
One British conservative referred to Spain's decision as a provocation meant to bully Gibraltar. Tory MP Andrew Rosindell claimed Madrid "[added] insult to injury for the people of Gibraltar."
The Novorossiysk is a Project 636 Varshavyanka submarine deemed to be one of the quietest in the world. NATO refers to the improved Kilo-class as a 'black hole.' The Kilo was designed to carry out anti-shipping and anti-submarine missions in littoral waters.
Security expert Luke Coffey believes that the United States will not be thrilled to learn the news. "Here we have a NATO member actively hosting an advanced Russian warship on its way to the Black Sea. It's crazy, and it will raise eye-brows in Washington," the Independent quoted Coffey as saying.
"There will be a huge outcry in Washington, especially given the hypocrisy of Spanish rules that mean a US or NATO vessel cannot dock in Spain if it originates from Gibraltar. It's ridiculous, as Spain is essentially saying they would rather have a Russian ship in one of their ports than a NATO vessel visit Gibraltar," he added.
Madrid has not issued a statement with regard to the issue.
© Sputnik
Project 877 Paltus Kilo-class Submarine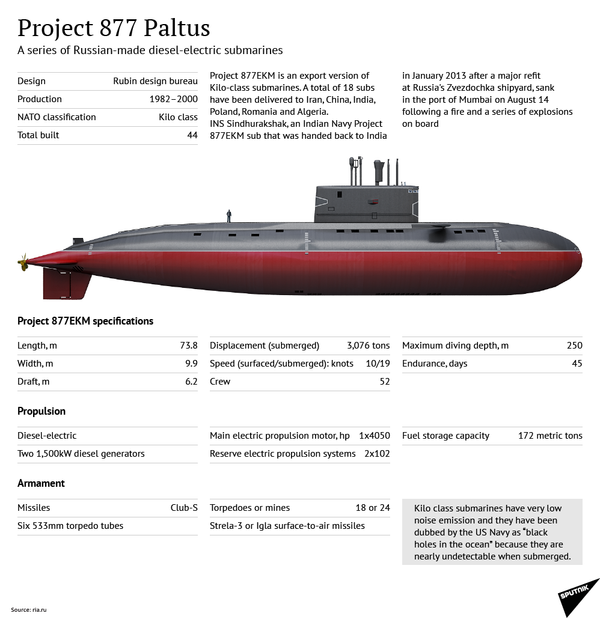 Project 877 Paltus Kilo-class Submarine