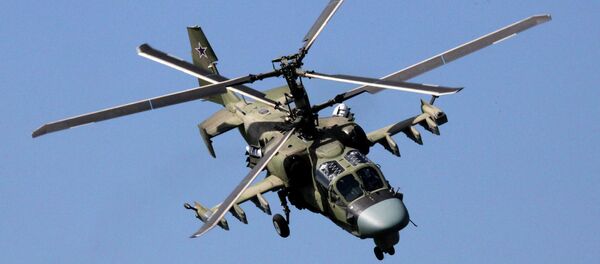 25 August 2015, 11:52 GMT
Egypt has ordered Ka-52 helicopters but the delivery has not started yet, according to the source that did not specify the timeframe and sum of the contract.
Egyptian President Abdel Fattah al-Sisi is currently on a visit to Moscow. During talks with his Russian counterpart Vladimir Putin, Sisi reached an agreement to extend Russian grain supplies and switch to ruble transactions in the tourist industry.
At the invitation of Russian Defense Minister Sergei Shoigu, the Egyptian leader visited the National Center for Defense Management.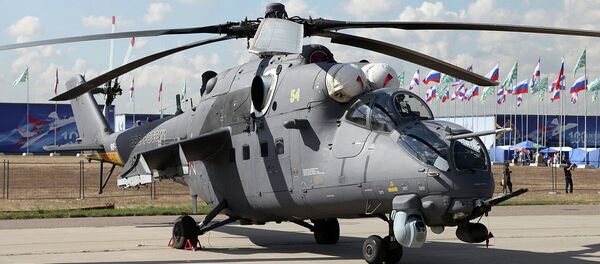 20 August 2015, 06:23 GMT
The Ka-52 multirole attack helicopter was designed for destroying enemy armory, personnel and helicopters under any weather conditions at day and night. The Alligator features a coaxial rotor system which allows for superior maneuverability. The machine is capable of flying backwards at speeds of 130 kmh and sideways at speeds of 100 kmh as well as performing aerobatic maneuvers.
The Ka-52 has unique crew placement – one pilot alongside to the other. It was designed like this to better coordinate the pilots' actions in combat. The helicopter is armed with a 30-mm automatic gun and the Vikhr guided missile.
The Ka-52 has been in service in the Russian Armed Forces since 2011. Over 70 machines were produced, and a carrier-based modification was designed.
© Sputnik
The Kamov Ka-52 Alligator/Hokum-B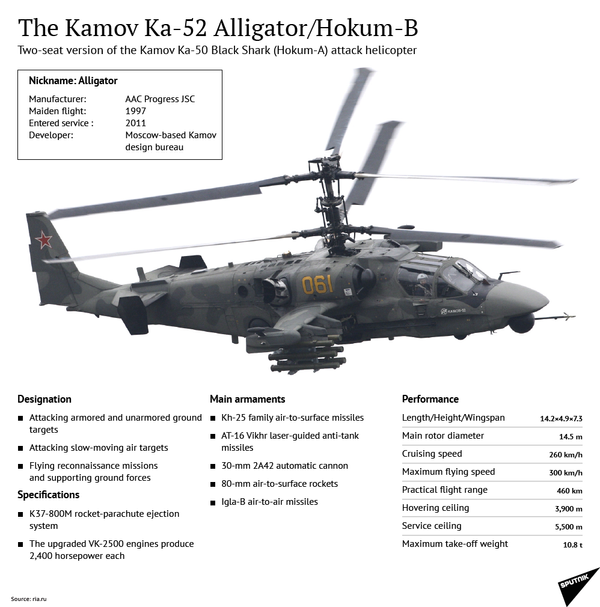 The Kamov Ka-52 Alligator/Hokum-B