ALPBACH (Austria), (Sputnik) — At present the Normandy group of negotiators is made up of Germany, France, Russia and Ukraine, and is frequently referenced as "Normandy Four." It emerged in 2014 when the four leaders met in Normandy, France, in a bid to end the conflict in eastern Ukraine.
"The Normandy format is a very good format. I very much salute what Germany and France have done… I still think that the EU has to be at the Normandy table as the union, representing all 28 [EU member nations]," Rinkevics said at the European Forum Alpbach in Austria.
Latvia's top diplomat stressed that a direct EU-Russia political dialogue was needed to address the crisis in Ukraine more effectively.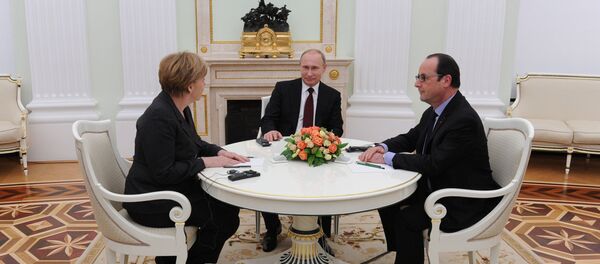 29 August 2015, 13:54 GMT
He reiterated that the lifting of EU sanctions against Moscow depended on the progress in implementing the Minsk peace deal in eastern Ukraine, "even if there are very different views within the European Union" on these restrictions.
Almost 7,000 people lost their lives in the Ukrainian conflict since April 2014, according to UN estimates. The crisis strained relations between Russia and the European Union, which accused Moscow of backing anti-government militias in Ukraine's southeast. Last year, Brussels imposed several rounds of sanctions on Moscow that are to remain in place until at least next January.