MOSCOW (Sputnik) — President Putin will visit China on September 2-3 to take part in events dedicated to the 70th anniversary of Japan's surrender in World War II and to discuss bilateral cooperation with his Chinese counterpart Xi Jinping.
According to the president's aide, Yuri Ushakov, about 30 bilateral documents are scheduled to be signed in Beijing during the president's official visit.
Peak in Russia-Chinese Relations and Western Sanctions
According to Putin, Russian-Chinese ties "have now probably reached a peak in their entire history and continue developing."
"I would not agree that the illegitimate restrictions imposed by certain Western countries against Russia have a negative impact on Russian-Chinese economic cooperation. On the contrary, this encourages our domestic business to develop stable business ties with China," the Russian president wrote.
Relations between Moscow and the West have deteriorated due to the Ukrainian crisis. In 2014, the European Union, the United States and a number of other nations accused Russia of interfering in Ukraine's internal affairs and imposed several rounds of sanctions against Moscow. Russia has denied its involvement in the Ukrainian conflict, and, in response, imposed a food embargo on the countries that had introduced the sanctions against it.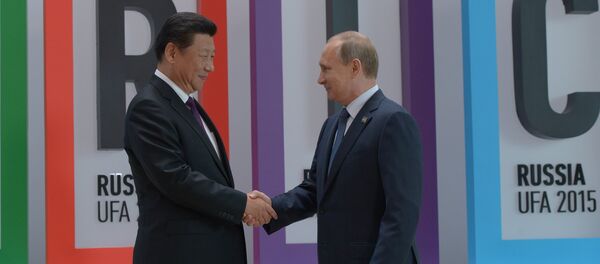 27 August 2015, 11:49 GMT
Putin added that since 2010, China had been Russia's leading trade partner, while in 2014, despite unfavorable trends in the global economy, the countries had managed to sustain their bilateral trade volumes, which had reached around $88.4 billion.
Moscow and Beijing are set to intensify their financial cooperation, specifically, they plan to start using their national currencies to settling payments, they intend to expand interregional ties and cross-border cooperation, as well as improving cross-border transport infrastructure, Putin pointed out.
Energy Alliance and Changing Structure of Economy
"Energy remains the key area here. Our countries are consistently moving towards the creation of a strategic energy alliance that, I am sure, will play a significant role in international economic relations," President Putin wrote.
In 2014, Russian energy giant Gazprom signed a 30-year framework agreement with the China National Petroleum Corporation (CNPC) for annual deliveries of 38 billion cubic meters of Russian gas through the eastern route pipeline, formally known as the Power of Siberia, which is expected to come on-stream in late 2017.
At the moment, the sides are discussing the construction of the so-called western route for gas deliveries, also known as Power of Siberia-2, that would supply 30 billion cubic meters of Russian natural gas annually from West Siberia to China during its first phase.
Putin stressed that there is great potential for energy cooperation between the two states.
"We are also making significant progress in other areas of energy cooperation. We have built and began operating an oil pipeline from Russia to China, we signed agreements to increase oil shipments, created joint ventures to explore and produce oil in this country. Chinese companies have joined gas projects on the Russian Arctic shelf and the Sakhalin shelf. There are good prospects for joint development of coalfields in the Far East," Putin added.
He pointed out that "with all the differences between Russia and China, we are facing common development targets, such as changing the structure of the economy to favor high technology sectors."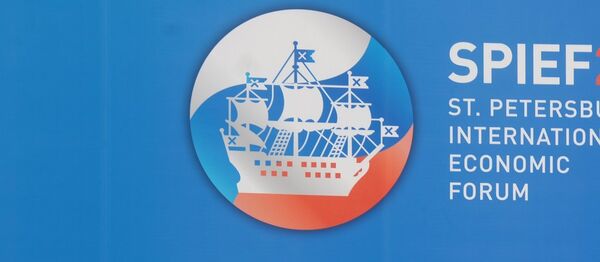 "Russia and China also have very similar industrial priorities: these are nuclear energy, space exploration, new information technologies, environmental protection, energy saving, production of high technology medicines and medical equipment, and some other," Putin noted.
According to the president, the two countries "have an enormous potential for closer business cooperation." He expressed confidence that favorable conditions for investment and business in the Far East would be of interest to Chinese businesspeople.
"Thus, our Chinese partners are ready to invest over 100 billion rubles into the construction of an oil refinery and a clinker plant in Amur Region, Nizhneleninskoye–Tongjiang and Blagoveshchensk–Heihe bridges, and a metallurgical plant and a brick factory in Yakutia," Putin wrote.
Common Goals and Foreign Policy
President Putin said that, in view of the current complicated international situation, Russian-Chinese cooperation took on a new dimension, in terms of maintaining and strengthening global and regional stability and security, as well as helping to find an effective response to global challenges.
The international situation, according to the Russian leader, is becoming increasingly unpredictable, something he blames on a general unwillingness among world leaders to compromise.
"Among the endemic problems is the persistent desire of certain states to retain their dominance in global affairs at any cost. While declaring norms of democracy, supremacy of law and human rights in their own countries, they ignore the same on the international arena, actually denouncing the principle of sovereign equality of all states laid down in the UN Charter," Putin underlined.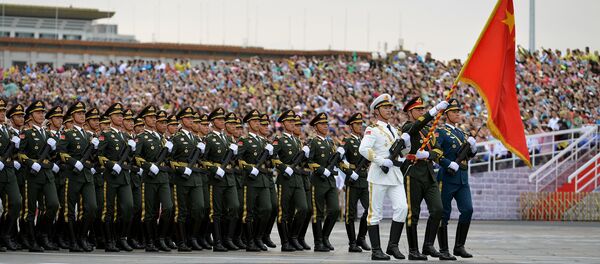 31 August 2015, 17:58 GMT
He stressed that Russia and China hold similar views on the causes, history and outcomes of World War II, emphasizing that "this tragic past is an appeal to our common responsibility for the fate of the world, to the realization of the terrible consequences a destructive ideology of personal exclusiveness and all-permissiveness could lead to."
"These are the ideas that Nazism and militarism thrived on. It is our duty to prevent their revival and spreading," Putin warned.
"Today, both in Europe and in Asia, we witness the attempts to falsify the history of World War II, to promote loose and distorted interpretations of the events that are not based on facts, particularly events of the pre-war and post-war periods. Efforts by certain countries to glorify and exonerate war criminals and their henchmen are an outrageous flouting of the Nuremberg and Tokyo trials. This is an outright insult to the memory of millions who fell in the war. The goal of such historical speculations is obvious: they are used in shady geopolitical games with the purpose of sowing feud between countries and peoples," Putin pointed out.
China suffered from Japanese militarism as early as in 1931 when the Japanese army occupied Manchuria. The Soviet Union came to China's aid, assisting in the surrender of Japan's Imperial Army in 1945.