MOSCOW (Sputnik), Daria Chernyshova — The Schengen agreement, which abolished borders between numerous European states, has failed and needs to be rethought, the vice-chairman of the Foreign Affairs Committee of the Hungarian National Assembly told Sputnik Tuesday.
"Schengen is seriously jeopardized. And this is a system that has to be rethought because it just does not work," Marton Gyongyosi said.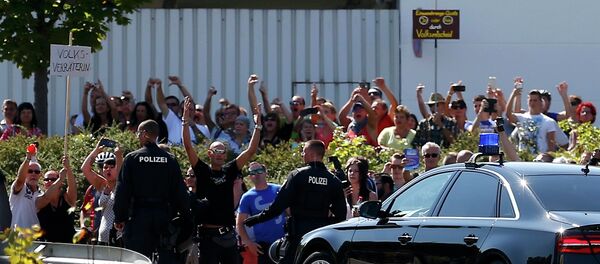 31 August 2015, 18:50 GMT
Gyongyosi pointed out that the agreement had been signed at a time when Europe had not faced the level of migration that it was grappling with now, emphasizing that the agreement was not working any more.
Austrian authorities started inspecting vehicles crossing into the country from Hungary after the bodies of 71 migrants had been found in a truck that had come from Hungary, he noted.
"The Schengen agreement, signed at a time when we did not face such an emergency, what is happening now is that every country is trying to protect its own interest, to push over the problem to somebody else – with this quota system, with the border control," Gyongyosi explained.
Europe is experiencing a massive migration crisis, as thousands of people attempt to cross into the bloc, fleeing violence in their home countries in the Middle East and North Africa. Instead of applying for asylum in the first EU country of entry, as prescribed by current EU regulations, many undocumented migrants attempt to travel further within the European Union to reach richer countries and apply for asylum there.