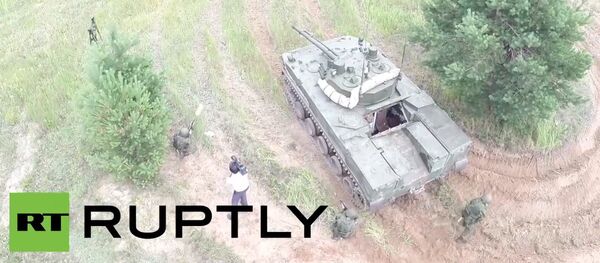 Originally designed as part a collaboration effort with France's Renault Trucks Defense Company, the ATOM heavy Infantry Fighting Vehicle (IFV) was to become the pinnacle of modern-day technology and a prime example of mutually-rewarding cooperation between Russian and European manufacturers.
After Renault Trucks Defense suspended its participation in the joint project, UralVagonzavod decided to go it alone producing one of the best armored vehicles money can buy.
The ATOM represents the plant's first entry into the wheeled armored vehicle market, reflecting the company's strategy in strengthening its traditional tracked vehicle production base with wheeled vehicle platforms, for which demand is stable (unlike tracked vehicles).
As a heavy vehicle platform, ATOM will be able to adapt to a number of applications, all based on a common chassis.
These include troop carriers, command vehicles, combat electronic vehicle, combat engineering and recovery, and fire support platforms, mounting various weapon systems, from the 57mm cannon to the 120mm gun-mortar.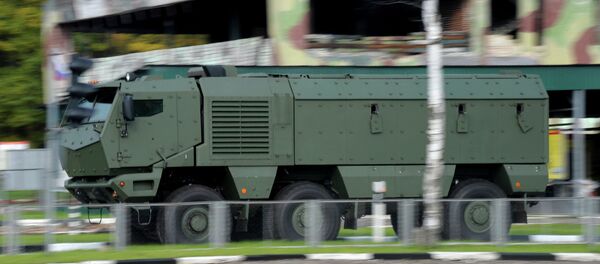 The ATOM 8x8 IFV features an overhead unmanned turret armed with a 57mm automatic gun, which is capable of engaging light armored and soft targets with a firing rate of 300 rounds per minute and an effective firing range of up to six kilometers.
It is powered by a 600hp diesel engine, which features an automatic gearbox and transmission with independent suspension. The IFV is propelled in water by a pair of propellers fitted on the sides of the rear hull.
It has a maximum speed of 100km/h and an unrefueled range of 750km, with a ground clearance of 600mm and features run-flat tires. The vehicle can be air dropped using Il-76 aircraft.
The ATOM features an all-welded hull with modular armor plates. Its cabin accommodates three crew members and up to eight troops along with equipment. It has one rear ramp, and four roof hatches for entry and exit.
The IFV is designed to provide transportation for motorized infantry subdivisions during combat missions and in battlegrounds.
The vehicle can be customized to make it suitable for deployment in different operations. It is available in different variants including troop transport vehicle, ambulance, breakdown vehicle, and armored police vehicle.
The combat weight of the vehicle is 32 tons and the maximum payload carrying capacity is 7 tons.
The ATOM IFV will be presented at the Russian Arms Expo (RAE) exhibition to be held at Nizhny Tagil on September 9-12.