MOSCOW (Sputnik) – The reduction of Chinese troops testifies to the country's commitment to peace despite economic difficulties and regional tensions, experts told Sputnik on Thursday.
Earlier in the day, President Xi Jinping made the announcement that Chinese armed forces would be cut by 300,000 at the military parade marking the country's victory in World War II.
Oxford University Professor of History and Politics of Modern China Rana Mitter, who was a guest of honor at the parade, argued that it allowed China to show itself in a new light.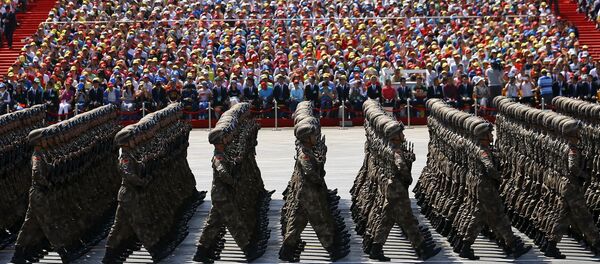 3 September 2015, 11:27 GMT
"The most important word that hung over everything that happened in Tiananmen Square today was 'peace.' And China pointed exactly to a peaceful beginning of it all," Mitter stressed.
Su Hao, a China Foreign Affairs University (CFAU) Department of Diplomacy professor, noted the significance of the timing and location leading up to Xi's announcement.
"The fact that the statement on the reduction of armed forces was made at the parade underscores China's commitment to peace, its desire to contribute to world peace," Su said.
The CFAU professor added that, contrary to a widely held perception of the so-called Chinese threat in the West, Beijing has made efforts in recent years to enhance its military transparency.
Russian Academy of Sciences senior fellow of US and Canada Studies Institute, Viktor Yesin, agreed that China has begun to gradually open up to the world in military affairs and noted the pragmatic approach to its cutbacks.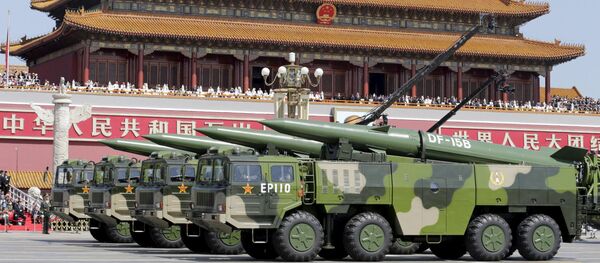 3 September 2015, 13:02 GMT
"China agreed on the reduction because it is optimizing the structure of its army under realistic objectives," Yesin stressed, noting that Beijing's mobilization capacity in the event of a military threat can reach 10 million people.
"China's move is to show the world that it does not seek to build up excessive military force, because maintaining an army of 2.3 million people in peacetime is not justified by military necessity," Yesin said.
Director of Russia's Center for Social and Political Research think-tank Vladimir Yevseyev argued that lower troop levels were compensated by a modernizing military.
He added that he viewed China's unilateral decision to cut back its troop numbers as an attempt to demonstrate to regional and international partners that it is not an aggressor state.