MOSCOW (Sputnik), Anastasia Levchenko — By struggling to cope with the unprecedented influx of migrants Europe is paying the price for not being able to address the Syrian crisis properly, analysts told Sputnik on Thursday.
On Wednesday, British Prime Minister David Cameron called for resolving the Syrian conflict, saying that accepting more refugees from Syria to Europe would not solve the Mediterranean migrant crisis.
"Europe is paying the price for not addressing the Syrian crisis seriously over the last four years. They felt the refugees crisis will not come to their shores, no real help was offered to Turkey, Jordan and Lebanon who hosted the lion share of the four million refugees and now the problem has reached EU," Mehrzad Boroujerdi, an expert on Syria and chair of the political science department at Syracuse University, told Sputnik.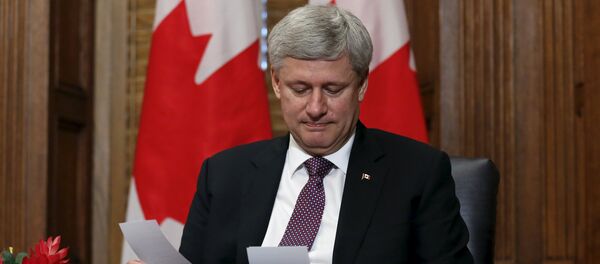 3 September 2015, 22:10 GMT
Today, as the Syrian conflict is not likely to be solved soon, Europe should prepare itself for even more refugees and migrants, the expert said, calling the situation "the most serious humanitarian crisis of our time."
Another analyst on the Middle East issues, Natasha Underhill from Nottingham Trent University, agreed that "the world is now paying a hefty price for not doing enough to deal with the Syria crisis in its early stages."
However, a more active European approach at the early stage of the Syrian conflict was hardly implementable, as Iraq and Afghanistan were foreign policy priorities at that time, she noted.
Today the humanitarian crisis is overlapped by the extremist threat, which aggravates the whole situation and requires a comprehensive approach, according to Underhill.
"The fact is that the situation has moved beyond a boiling point. It is no longer just a Syria issue, nor a simple refugee issue, we are also facing the threat of extremist groups such as IS [Islamic State] which are making the situation all the most confusing and dangerous. Action needs to be taken," Underhill said.
Over 340,000 refugees and migrants are estimated by EU border agency Frontex to have illegally crossed the European Union's external borders between January and July 2015. The number is three times higher than during the same period in 2014.
According to UN estimates, since the outbreak of the Syrian Civil War in 2011, 7.6 million people have been internally displaced and another 4 million people are living as refugees outside the country.