VLADIVOSTOK (Sputnik) – The first Eastern Economic Forum (EEF) held in Russia was attended by 75 Chinese companies, the total revenue of which accounts for 1/6 of China's GDP, Vice Premier of the State Council of the People's Republic of China Wang Yang said.
"Over 180 Chinese companies applied to take part in the Eastern Economic Forum. However, due to limitations on the number of participants, [only] 75 Chinese companies registered and came [to the forum], with their total revenue being $1.7 trillion – this is 1/6 of China's GDP. They are the largest Chinese companies," Wang Yang said on Saturday.
According to the vice premier of China's State Council, the total investment of Chinese companies in the economy of the Russian Far East exceeds $3 billion.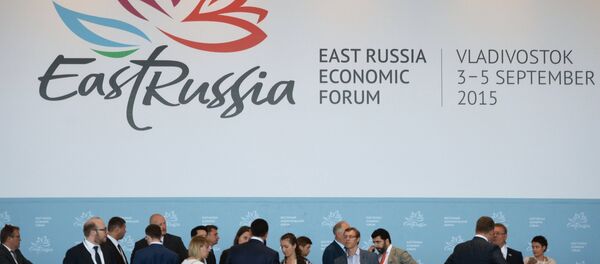 4 September 2015, 15:39 GMT
The first Russian Eastern Economic Forum started in the city of Vladivostok in the Russian Far East on September 3. The event, which ends on Saturday, is being held as a platform for dialogue between international investors, the Russian government and countries of the Asia-Pacific Region.
China has sent an official government delegation, including 10 ministers, and members of its business community to the EEF.
This is the first time that Russia has decided to hold a forum in the Far East since the introduction of Western sanctions over Moscow's alleged involvement in Ukraine's internal conflict, something that Russia has repeatedly denied.
Russia has boosted its cooperation with China amid the sanctions.
In April, Chinese Foreign Minister Wang Yi said that he expected the overall trade turnover between China and Russia to reach $100 billion in 2015.