Last week, British newspapers The Times and The Telegraph got ahold of several screens from a video on Syrian state television, showing what they deduced to be Russian troops fighting alongside pro-Assad forces in Syria.
The Telegraph explained that the video footage appeared to show "a Russian armored vehicle" fighting alongside the Syrian Arab Army in Latakia, western Syria, adding that "it is reportedly possible to hear Russian being spoken by the troops in the footage." The newspaper also presented photos from a Twitter account said to be linked to Jahbat al-Nusra, al-Qaeda's Syrian branch, showing what it said "appeared to be Russian planes and drones flying over Idlib," in the country's northwest.
Earlier, Israeli news outlet Ynet had reported, citing anonymous Western officials, that Russia was sending fighter jets to Syria to conduct airstrikes against ISIL positions. The Times only added to the excitement over the allegations of a Russian presence in the war-torn nation by citing an unnamed activist with the anti-Assad Free Syrian Army, quoting him as saying that Russian forces had in fact "been there a long time."
With the story of Russian involvement making its way around the world, suspense was only heightened after Kremlin Spokesman Dmitri Peskov brushed off the claims through a dry, awkwardly translated statement reading that "you should not believe these reports," a statement which detractors took to mean just the opposite.
Now, despite growing skepticism over the veracity of the reports, The Telegraph seems to have stuck to its guns, releasing a piece Friday about the Russian president's talk of the need for an "international coalition" against terrorism and reading it to suggest that this may confirm the reports of a Russian warfighting presence in Syria.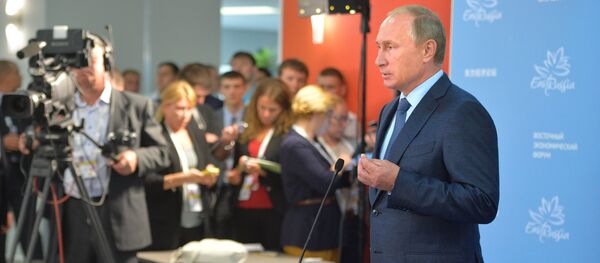 4 September 2015, 11:02 GMT
What Vladimir Putin said, in fact, was that Russia has been open about looking "to form an international coalition on the fight against terrorism and extremism," adding that "for this purpose, we are holding consultations with our American partners."
Asked directly about whether Moscow was ready to join Washington in direct military action against the Islamic State, Putin explained that this was "a separate issue," adding that "we see what is going on –the American [air units] are making airstrikes. The efficiency of these airstrikes is low. It is premature to say that we are ready to do the same."
The president confirmed what is no secret —that Russia is "providing serious support to Syria: equipment, training for military personnel and armaments," which The Telegraph again took to be a direct sign of Russian military intervention.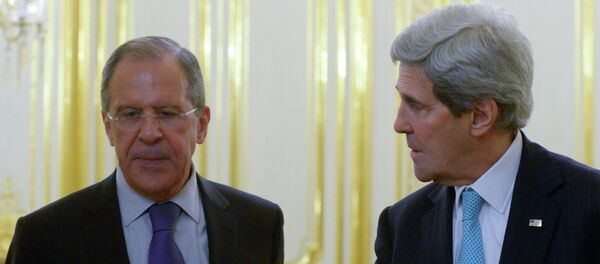 5 September 2015, 19:12 GMT
In its response to The Times and The Telegraph, Dagens Nyheter, whose piece was immediately picked up by Russian-language media, explained that the pair of British newspapers had jumped to conclusions which stretched far beyond the materials they had to work with, adding that they had not even "taken the trouble of presenting any credible evidence."
The paper emphasized that while it is "no state secret" that Russia has provided Syria with assistance over the course of Damascus's war with its insurgency, "Russia has nothing to gain from sending combat troops to the country." The paper concluded that "despite the fact that the regime in Damascus is Russia's key ally in the Middle East, there isn't much to suggest that Putin would have any interest in sending combat ground troops to a country that is well on its way to dissolution."
The Dagens Nyheter's analysis was echoed by Russian internet newspaper The Russian Times, which noted Friday that the British newspapers appear to have done a number on the world's media by making arguments which haven't been backed up by any concrete evidence.