KIEV (Sputnik) — The International Monetary Fund (IMF)'s mission in Ukraine is likely to submit its proposals on the next batch of loan payments for Kiev to the IMF board of directors in October, Ukrainian President Petro Poroshenko said Sunday.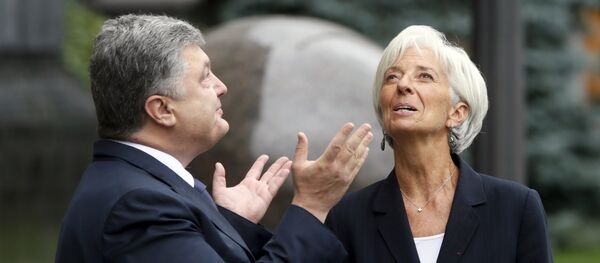 6 September 2015, 15:37 GMT
Speaking at a joint press briefing with IMF chief Christine Lagarde, Poroshenko said that the IMF mission would arrive in the country later in September and stay until October 2.
"So far, we have received only 38 percent of the total funds earmarked [for Ukraine] under the Fund's program and we have agreed on a strict schedule," Poroshenko told journalists.
"The IMF mission is due to arrive in September and will work here until October 2, and we have agreed that after its work is done it may present its offers at a meeting of the IMF board of directors as early as in October," the president continued.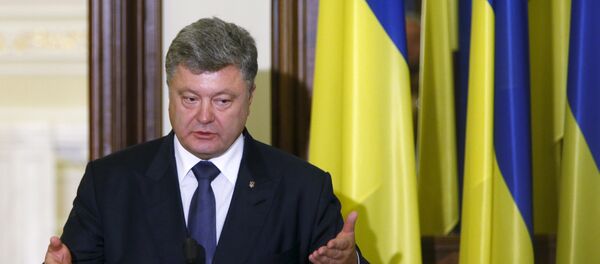 6 September 2015, 16:11 GMT
In March, the IMF approved a four-year $17.5-billion assistance package to Ukraine to put its ailing economy on the path toward recovery by encouraging a series of reforms. An additional tranche worth $1.7 billion was approved by the IMF in July.
Ukraine's national debt exceeds $70 billion. The East European nation has been increasingly reliant on external funding since a coup in February 2014, followed by an armed conflict in the southeast.
On August 28, Kiev and its international creditors agreed to write off 20 percent of Ukraine's foreign debt. The IMF head said the US-based fund would help Kiev maintain debt sustainability.