US diplomats visited the Russian city of Kostroma on Thursday, where they requested meetings with state officials and representatives of opposition parties, according to the US Embassy in Moscow, although both groups denied having met with the diplomats.
Despite denials by both sides, a vehicle with US Embassy diplomatic license plates was apparently spotted by blogger Kirill Strelnikov not far from a bar where opposition leader Alexei Navalny was meeting with supporters and activists. Strelnikov also filmed the alleged US diplomats in the bar at the same time Navalny and his associates were seated at a nearby booth.
"We confirm that two American diplomats went to Kostroma this week. They requested meetings with state officials as well as the representatives of various parties participating in local elections," US Embassy in Moscow press secretary Will Stevens told RBK.
Kostroma region deputy governor Alekandr Fisher commented that the diplomats did not meet any officials or regional government employees, although they did request a meeting before arriving. Navalny and Volkov both denied that a meeting with diplomats had taken place, at least during the filming.
"They were some foreign journalists. Presumably from the German channel ARD," a source in the RPR-PARNAS party, allied with Navalny's party in the elections, told Moskovsky Komsomolets.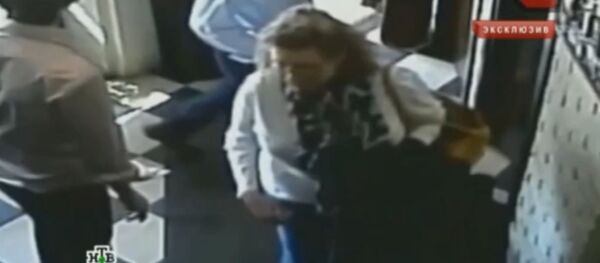 5 September 2015, 19:01 GMT
Opposite Reaction
Navalny wrote on his Facebook page that he was meeting with fellow opposition allies Leonid Volkov and Ilya Yashin, as well as the local Communist Party election headquarters chief, to discuss issues regarding election observers.
It is fairly commonplace for US Embassy staff to meet with Russian officials and political leaders, although it is also a common practice for intelligence agents to work under official cover as diplomatic workers.
"Unlike members of United Russia, I don't meet US diplomats,"  Ilya Yashin said in comments cited by Moskovsky Komsomolets.
Navalny and Volkov said that they would pursue libel charges against blogger Strelnikov, as well as the television station LifeNews and the political journal PolitRussia, which reported on the alleged meeting, for what Navalny said were accusations of espionage.
"The State Department does not support or finance us, only you support and finance us," Volkov wrote in his blog to his supporters.
LifeNews identified the apparent diplomat in the cafe as Bradford Bell. A LinkedIn page for the name identifies Bell as a Foreign Service Officer at the US State Department who is currently in Russia.