"NATO was supposed to 'defend' Europe against the Soviet Union.  A whole lot of people believed that, at least until the Soviet Union ended. Then NATO was supposed to 'defend' Europe against Iran. I think about 8 people believed that, not counting US senators," American peace activist David Swanson pointed out in an opinion piece titled "NATO: Never-ending Aggression Toward Others."
Iran is no longer an issue following a landmark deal between six world powers and Tehran meant to ensure that Iran's nuclear program does not have a military component. The agreement, according to the expert, involves "the toughest inspections of [Tehran's] non-existent nuclear weapons program in the history of the world."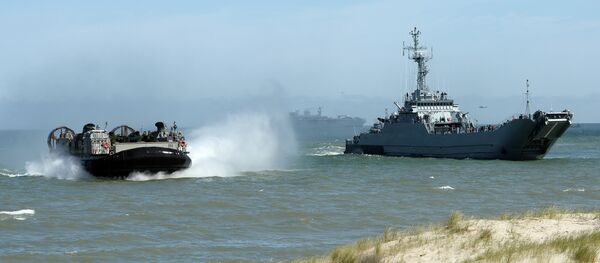 7 September 2015, 06:47 GMT
The latest move upholding the trend saw NATO open six new command and control centers in Central and Eastern European countries, as well as the Baltics. The "small headquarters" in Bulgaria, Estonia, Latvia, Lithuania, Poland and Romania are allegedly designed to boost bloc's defenses and protect it from unnamed "challenges from the east and the south," according to the organization's press release.
To Swanson, what the North Atlantic Alliance perceives as a newest challenge to its existence is obvious – it's Russia. Consider this: "United States promised Russia that NATO would never" expand to Eastern Europe, let alone preposition military hardware there but failed to deliver.
Experts and politicians from Russia and elsewhere have repeatedly said that Moscow poses no threat to any of its neighbors to warrant such a response but to no avail.
Stupidly Poking the #Russia Bear #NATO Force Integration Unit HQs to be launched in 6 six countries on #EU eastern borders on September 3

— Greig Markham (@BearGardenMan) 30 августа 2015
"The United States … is putting more nuclear weapons into Europe, arming its coup government in Ukraine, posturing over claims to the Arctic (where it hopes to dig out more of the filthy fuels with which it has melted the Arctic), and churning out anti-Russian propaganda by the boatload," Swanson asserted.
To the peace activist, these measures are "definitive proof that a large organization can have a mind: NATO has clearly lost one."
© Sputnik
NATO exercises and deployments near Russia since 2014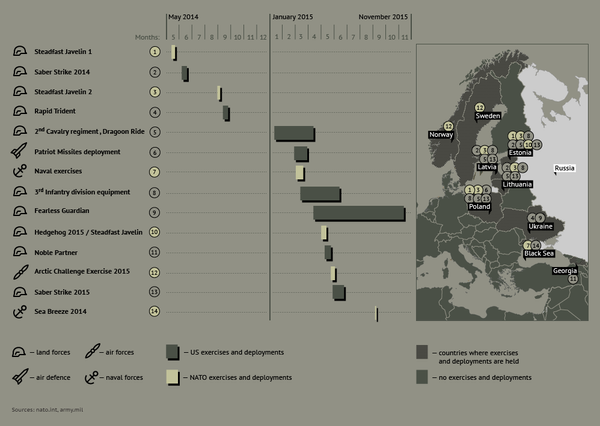 NATO exercises and deployments near Russia since 2014