An email exchange between Cherie Blair and Hillary Clinton during the Gulf of Mexico oil spill in 2010 has been revealed by The Times. The article suggests that Blair used the environmental disaster as an opportunity to broker a deal between the Qataris and Washington to help clean up the oil spill.
The private messages to Hillary Clinton from Cherie Blair are among tens of thousands of pages of emails that Clinton was forced to hand over to the US State Department earlier this year following complaints she had used the private email system for official business, disclosing classified information.
According to The Times, Mrs Blair "suggested they could help out with the oil spill problem" at a time when Prince Tamim bin Hamad Al-Thani wanted to discuss food security issues with the US Secretary of State and forge stronger ties with Washington. Mrs Blair contacted Mrs Clinton on behalf of the wife of Al-Thani, Sheikha Mozah.
The Gulf of Mexico oil spill is the largest marine oil spill in history caused by an explosion on the Deepwater Horizon oil rig off the coast of Louisiana on April 20, 2010.
© AP Photo / Gerald Herbert
The 2010 disaster at BP's Deepwater Horizon oil rig caused devastating pollution in the Gulf of Mexico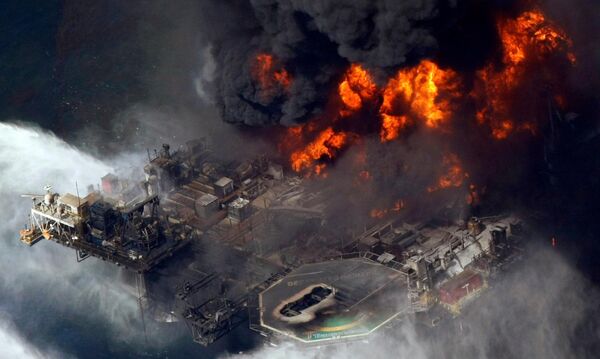 The 2010 disaster at BP's Deepwater Horizon oil rig caused devastating pollution in the Gulf of Mexico
© AP Photo / Gerald Herbert
Cherie Blair has openly refuted any accusations of lobbying on behalf of the Qatari royal family. In a letter to the Guardian she wrote: "I've rarely read a more sensationalist and inaccurate story 'Blair's 19 emails urging Clinton to meet Qatari royal, 2 July' in the Guardian than the one concerning my email exchange with Hillary Clinton about a meeting with Sheikha Mozah.
"To say that this harmless exchange reveals the behavior of a 'professional lobbyist', and imply it was somehow scandalous, is innuendo worthy of the Daily Mail."
But Cherie Blair faces new controversy after her legal consultancy firm signed a deal with the Maldives government. Omnia Strategy is to advise President Abdulla Yameen's government on "democracy consolidation".
Yameen's regime has been accused of suppressing political dissent with the leading opposition party, the Maldivian Democratic Party (MDP), describing the consultants as "unethical and profiteering", helping "wash the blood" off the President's hands.
Amal Clooney is representing the former president Mohamed Nasheed who was sentenced to 13 years in jail on terrorism charges after being forced to resign in 2012 at gun point.
Amal Clooney has filed a case to the UN urging it to rule that his detention violates international law on behalf of Nasheed. Abdulla Yameen, who took over as president of Maldives in his place is being advised by Cherie Booth.