According to the German media source, Yatsenyuk will be replaced by either Mikheil Saakashvili, the Governor of Odessa and the ex-President of Georgia, or Chicago-native Natalie Jaresko, who is the current Finance Minister of Ukraine.
"The days of Yatsenyuk are gone," the German media said.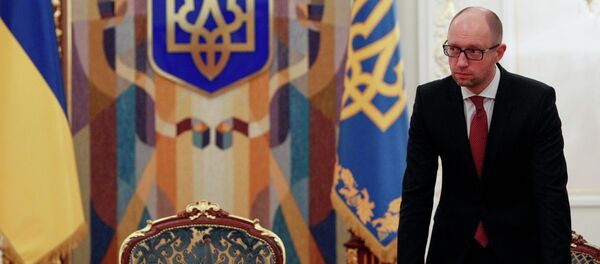 9 September 2015, 16:09 GMT
Saakashvili himself has been actively criticizing the prime minister, accusing him of corruption and supporting the interests of Ukrainian oligarchs, including Ihor Kolomoyskyi, arguably the country's richest oligarch, whom Yatsenyuk helped to privatize the entire Ukrainian aviation industry, DWN said.
Saakashvili, the former president of Georgia and now the governor of Odessa, has been closely working with US neo-cons, including US Senator John McCain. The Odessa governor, who received his degree from Columbia University in the United States, is a known puppet of the US government and will unquestionably follow his bosses' orders.
Jaresko worked at the US State Department before becoming Ukraine's Finance Minister.
"The appointment of Yatsenyuk's successor is yet show who will prevail in Ukraine: the neo-conservatives or moderate Obama administration," DWN concluded.