It all seems to boil down to the age-old principle as true for politics as it is for geopolitics: divide and conquer.
"Washington's primary goal is not peace, not prosperity, not human rights, not democracy, not justice. Washington's primary goal is to remain the only superpower in the world," Ingemar Wärnström asserted.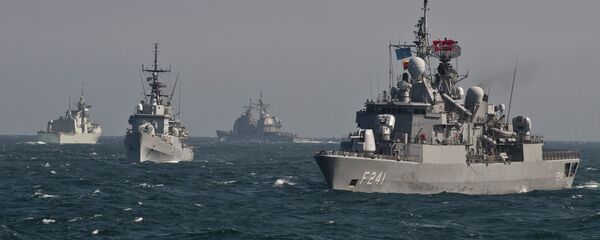 24 August 2015, 06:21 GMT
This is the key reason for the 2014 coup in Ukraine, which saw democratically elected President Viktor Yanukovych ousted by US-backed forces. Washington, according to Wärnström, was not driven by a desire to promote democracy in Ukraine, the aims were purely political and could "be traced back to a single one, namely the US global hegemony that does not allow any other country to challenge them."
Wärnström recalled two major topics in the smear campaign against Moscow with regard to Ukraine in an opinion piece published by Canadian independent research and media organization Global Research: Russia's reunification with Crimea and the MH17 tragedy.
In the first case Washington made every effort to convince ordinary people that the Black Sea peninsula was forced to become part of Russia under the barrel of a gun. Thankfully, multiple facts dispel this particular myth in an instant: the peaceful reunification took place following a referendum conducted according to international norms.
"The fact that Crimea has been a province of Russia since 1758 is not mentioned in Western media. Khrushchev handed over Crimea to Ukraine at a time when both were part of the Soviet Union and the whole thing was purely administrative…. After the [referendum] Crimean streets were full of jubilant inhabitants who had again become Russian citizens. Not a single shot was fired, and a referendum showed that 96% of the people wanted to return to Russia," Wärnström recalled.
Washington has also tried to use the downing of the Malaysia Airlines Flight MH17 to its advantage. The Dutch Safety Board, tasked with investigating the crash, will release its final report in October but Western media has focused on blaming Russia and (or) self-defense forces in eastern Ukraine. No definitive proof has been provided for the wild accusations.
"I think the reason that we can't get to the bottom of this is that it's been used against Russia by Washington in order to break off Russia's relationships with Europe. It's the foundation of the sanctions and it's part of Washington trying to break up the political and economic relationships between Russia and Europe," Wärnström quoted former US Assistant Secretary of the Treasury for Economic Policy Paul Craig Roberts as saying.