Two teams are vying for the deal some say will be worth as much as $80 billion — Northrop Grumman and Boeing / Lockheed Martin. The winner will be able to manufacture as many as a hundred new aircraft, which are expected to become operational in a decade.
"My belief quite frankly is 80 to 100 aircraft are not going to be enough to replace the B-1 and B-52 fleet, even though it's capability against the target set will be greater," Lieutenant General Robert J. Elder Jr. told the US House Armed Services Committee.
The US Air Force cares for numbers but the ones on its mind have to do with spending. Both teams were told that the Long Range Strike Bomber program could not repeat the fate of the Advanced Technology Bomber (ATB) project, which gave birth to the B-2, or the Joint Strike Fighter (JSF) program, responsible for creating the F-35.
Q: We do not know range, payload or max speed of the Long-Range Strike Bomber (#LRSB) / A: long, will carry MOP+, ~ mach 2+ @el_grillo1

— l b fowler jr md (@lbfjrmd) 10 сентября 2015
The B-2 Spirit, also known simply as the Stealth Bomber, and the Lockheed Martin F-35 Lightning II are notorious for being extremely expensive pieces of military hardware. The US Air Force appears to be making every effort to avoid this mistake.
The new strategic bomber will have to cost less than $550 million in fiscal 2010 dollars apiece. However, the Pentagon is already spending a lot of money on the new design and the funding will likely go through the roof, defense analyst David Axe observed.
The development expenditure for the new bomber will increase from $1 billion in 2015 to more than $3 billion in 2018, and this trend will only be reinforced in the years to come, he pointed out.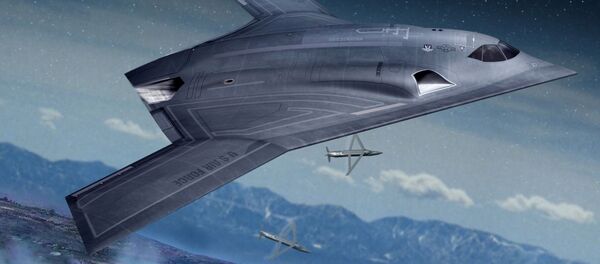 9 September 2015, 11:21 GMT
Meanwhile, the US fleet of strategic bombers is rapidly aging.
"Our capabilities are withering and we have less than a hundred combat ready bombers with an average age of 38 years. The older bombers we have are simply not survivable in the face of modern air defenses and … we are going to live with them for quite a bit longer. The new B-2s remain potent but few in numbers," Elder noted.
Even though the winner will be announced this fall, development will not start in the near future.
"Once the Air Force announces the winner, it is likely the loser will file a protest, kicking off a months-long review of the secretive procurement process before work can begin in earnest on designing the aircraft," Amy Butler wrote for Aviation Week.
"Senators Call For Oversight On LRS-B Cost Estimates" says the headline. You'd think oversight on a weapon system would have been a given??

— Shiva (@MaximusShiva) 1 сентября 2015