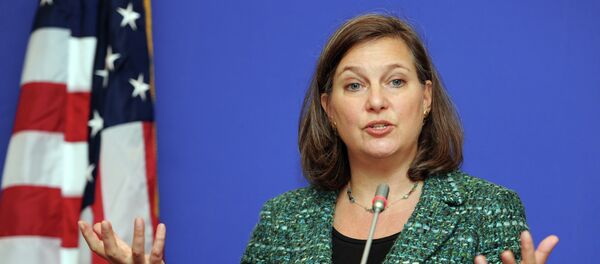 10 September 2015, 21:57 GMT
The forum, concluding Saturday, is a virtual who's who of the post-Maidan coup Ukrainian elite, as well as their foreign backers and supporters. Following the Maidan, the conference has been forced to relocate to Kiev from Yalta, a city situated in southern Crimea, the peninsula which broke off from Ukraine in March 2014 to join Russia.
Nuland's remarks featured rhetoric on stopping Russian aggression, praise for the Ukrainian leadership's great successes in reforming Ukraine's economy and tackling corruption, and promises that the US would continue to assist Ukraine, including its armed forces.
"You have stopped the Novorossiya project in its tracks, stabilized the financial system and created a new police force…Many challenges remain ahead. There will be losses in the fight against corruption. But there should be no tolerance for the oligarchs," Nuland noted, cited by Ukrainian newspaper LB.ua. "We are providing Ukraine with continuous assistance. The United States, more than any other country, has supported the Ukrainian army. This is part of the reason why Ukraine has been able to stop the offensive in the east."
But the remarks which caused the most excitement among Ukrainian officials and foreign hawks alike was a statement Nuland made at the beginning of her speech about the Yalta European Strategy forum one day returning to its home city of Yalta, Russia.
The forum's official Twitter account proudly tweeted the statement, reading "#victorianuland one day you will return to that great #Ukrainian city #Yalta" and "#victorianuland happy you didn't change name of this conference – it is the Yalta European Strategy conference."
Others, including former Deputy Secretary of State Strobe Talbott, promptly joined in, in comments retweeted by US Ambassador to Ukraine Geoffrey Pyatt.
Naturally, not everyone was supportive of the assistant secretary of state's remarks.
Nuland's commentary kept up with the vaguely belligerent and occasionally downright absurd tone of the conference, with speakers bragging about the important successes of Ukraine has seen in its programs of economic and anti-corruption reforms, ramping up the rhetoric about Russian aggression, calling on Moscow to free suspected murderer Nadiya Savchenko, etc.
Swedish Member of European Parliament Anna Maria Corazza Bildt, wife of former Prime Minister Carl Bildt, showing off her 'Free Savchenko!' t-shirt.
Ms. Nuland wasn't alone in fantasizing about Ukrainian irredentism over Crimea, with one forum participant suggesting that it's already time for Kiev to start planning on how to reintegrate the region into Ukraine.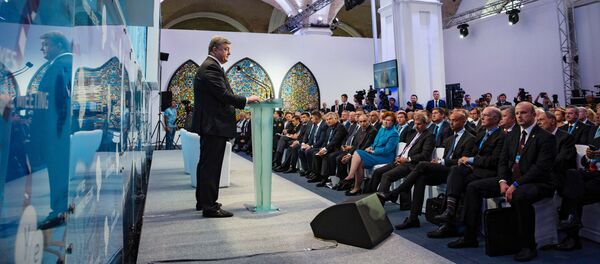 11 September 2015, 17:55 GMT
Earlier Saturday, Ukrainian Prime Minister Arseniy Yatsenyuk made an appeal for the West not to flinch, to keep maximum pressure on Moscow, and to keep Ukraine "on their radar," because Russia is really "fighting not only against Ukraine; the Russian president is fighting against the free world." 
Yatsenyuk grudgingly admitted that the Minsk Agreement is the only option for peace available at the moment, but declared that relations between the West and Russia should not be allowed to stabilize until Russia's phantom 40,000 troops pull out of eastern Ukraine and Moscow returns Crimea to Ukrainian control. The prime minister also boasted that Russian leadership, including President Putin, has "trapped" itself in Donbass, adding that "if [Putin] attacks the Ukrainian army and tries to capture more territories, he will die."
The prime minister's words follow on similarly provocative commentary made by President Poroshenko on Friday. In comments which he has since declared were misinterpreted, the president announced that "now it is high time to discuss the possibility to deploy an operation in the Donbass to support due implementation of the Minsk Agreement." The president noted that peace could be achieved only when "Russian occupation forces" withdraw from Donbass and Ukraine closes its border with Russia.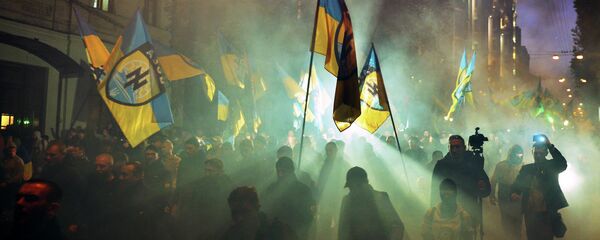 1 September 2015, 15:02 GMT
Conducting polling among the forum's participants, the forum's press service had reported Friday that just over half of the forum's Ukrainian participants (51 percent) and nearly a third (32 percent) of its foreign guests favored the expansion and strengthening of the NATO alliance as a method of enhancing European security. 32 percent of Ukrainian participants and 24 percent of foreign guests also supported the creation of new security institutions. Only seven percent of the Ukrainian officials and 18 percent of the forum's foreign guests considered it a priority to find a new format for partnership relations with Russia.
Founded by Ukrainian oligarch Viktor Pinchuk in 2004, the Yalta European Strategy forum has served to promote Ukraine's membership in the European Union, featuring high-level talks between Ukrainian and EU officials.