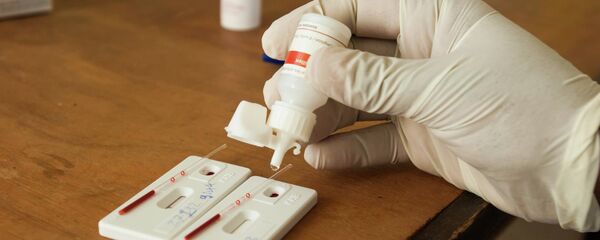 4 September 2015, 19:32 GMT
The US Food and Drug Administration has just accepted the application of the world's very first "digital pill," which contains a microchip and is capable of transmitting different kinds of information to users' smartphones.
The state-of-the-art pill, produced by Proteus Digital Health, is a breakthrough in the fields of medical care and prescription management. Medical treatment is expected to become more efficient as new opportunities to control how regularly pills are being taken emerge. Additionally, pharmaceutical usage is expected to become more effective, as doctors will be able to monitor the use of drugs.
Currently, almost half of all patients in developed countries neglect to take medicine as prescribed, according to Proteus. The total cost of such losses for the healthcare system in the USA alone totals an estimated $300 billion.
"People are given a bag of pills and told to go away and take them and very often they don't," Mr. Thompson, the founder of privately-owned Proteus explained to The Financial Times.
The tablet is equipped with a ingestible sensor which sends information that the drug has been taken after it's reached one's stomach. Data is sent to a wearable patch, which is able to forward it to patient's smartphone or right to his doctor. It is especially important for the treatment of memory disorders, such as Alzheimer's, schizophrenia and other diseases.
"If you have an elderly person on a clinical trial and you ask her to take a pill for three months you cannot be sure that she has taken it every day. She might not admit it if she hasn't because she doesn't want to get in trouble with the doctor," Trevor Jones, a UK pharmaceuticals industry veteran and expert in clinical trials, commented to the Financial Times.
Beyond the Pill trend milestone: @US_FDA accepts NDA from Proteus-Otsuka combining sensor with Abilify to track #adherence 4 schizophrenia

— MedCity News (@medcitynews) September 10, 2015
Although there is no guarantee that California-based Proteus's digipill will be approved by the FDA, the firm has been working for several years to jointly develop a regulatory framework for the new generation of pills.