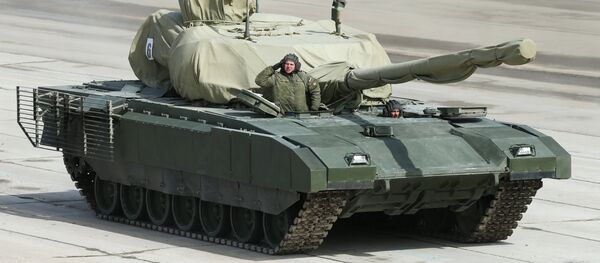 14 August 2015, 07:36 GMT
The Russian Arms Expo (RAE) 2015 comes to a close in the Urals city of Nizhny Tagil on Saturday, in an event that saw the display of a wide array of sophisticated military equipment.
First and foremost, all eyes were on the Russian fifth generation T-14 Armata battle tank and the T-15 heavy infantry combat vehicle, which show off the country's latest technologies and manufacturing capabilities. The T-14 is due to replace Russia's T-90MS main battle tank.
T-15 heavy infantry combat vehicle
© Sputnik / Alexey Malgavko
/
Also on display was the Derivation, a new version of the BMP-3 infantry fighting vehicle, equipped with a remote-controlled weapon station and a 57mm automatic gun. The vehicle is designed to increase the fire power of motorized rifled and infantry units.
T-90MS tank
© Sputnik / Pavel Lisitsyn
/
Another version of the BMP-3 was the Dragoon, a specially designed multi-purpose fighting vehicle, which can be easily converted into any configuration due to its modular weapon interface design and quick add-on protection kit installation.
One more must-see was a modernized version of the BTR-80 armored personnel carrier, which remains a combat vehicle of choice for a number of countries.
BTR-82A armored personnel carrier
© Sputnik / Evgeny Biyatov
/
As for the T-90MS tank, it is armed with a 125mm high accuracy gun and a 7.62mm anti-aircraft machine gun on a remotely controlled weapon station mounted on top of the turret to destroy stationary and moving targets.
Self-propelled artillery gun 2S35 Coalition-SV
© Sputnik / Alexey Malgavko
/
The tank features a nuclear, biological and chemical protection systems, as well as modular explosive reactive armor panels to protect the tank from small weapons and shell splinters.

22 August 2015, 13:28 GMT
Potential customers include those from Algeria, India, Saudi Arabia, Kuwait and the United Arab Emirates.
Additionally on display at the RAE-2015 was the state-of the-art Coalition-SV, a 152mm self-propelled gun meant to replace the current 2S19 MSTA-A howitzer. The Coalition-SV is designed to dismantle short-range nuclear forces, artillery and sub-artillery batteries, as well as tanks, anti-tank weapons, missile defense forces and field fortifications.