WASHINGTON (Sputnik) — Russia is providing military support to Syrian President Bashar al-Assad because Moscow understands what it takes to defeat the ISIL while US policy continues to fuel extremism, former CIA officer Larry Johnson told Sputnik.
"I personally am glad that Russia is taking these steps," Johnson said on Monday when asked about a private sector intelligence firm claiming it has satellite imagery showing Russia is ramping up military operations in Syria. "At least [Russian President Vladimir] Putin understands the threat and understands what is needed to confront it and defeat it."
The United States has persistently called for Assad to step down, arguing that regime change is the only viable political solution, while Russia has assisted the Syrian government in its fight against the ISIL.
"The West, and the United States in particular, have been complete fools in backing a policy that has strengthened and enabled Islamic extremists," Johnson claimed.
On Friday, Russian Foreign Minister Lavrov said Russia would continue the delivery of defense equipment to the Syrian government to use in its counter-terrorism efforts.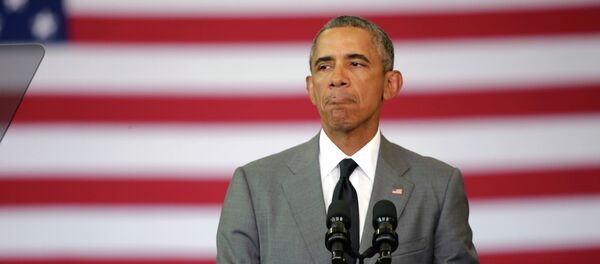 11 September 2015, 19:27 GMT
On Sunday, Lavrov said he questioned Washington's commitment to defeating the Islamic State after a colleague from the anti-ISIL coalition informed him that US commanders have called off airstrikes against the terrorist group positions.
State Department spokesperson John Kirby said on Monday that he had not seen any indications the US military held up airstrikes against the ISIL.
The United States is leading a 62-nation coalition against the ISIL whose objective is to eliminate the terrorist group. In nearly two years, the ISIL has occupied vast territories in Syria and Iraq, proclaiming a caliphate there.
The coalition has conducted more than 6,500 airstrikes against the ISIL since August 2014. US intelligence has estimated that the military campaign against the terrorist group has eliminated 10,000 of its fighters.