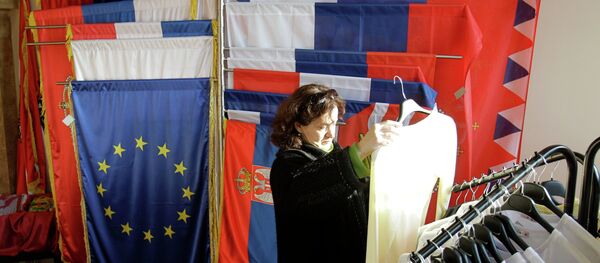 14 September 2015, 18:11 GMT
MOSCOW (Sputnik) — On September 15, Hungary introduced a set of laws tightening its border control and preventing thousands of undocumented migrants from crossing the Serbian-Hungarian border, which led to the accumulation of refugees in Serbia.
"The idea of return of refugees [to Serbia]…is unacceptable to us, because Serbia is not a collection center. We will not put up with Serbia to be a collateral damage of the refugee crisis," Dacic said.
He added that Serbia could not afford to be the only victim of this crisis.
The European Union is currently grappling with a high influx of migrants, thousands of whom are fleeing conflict-torn countries in North Africa and the Middle East. Serbia is used as a transit zone by refugees to enter Hungary and then continue to wealthier EU countries.
According to Budapest, more than 190,000 of migrants have illegally entered the country from the Serbian territory this year.