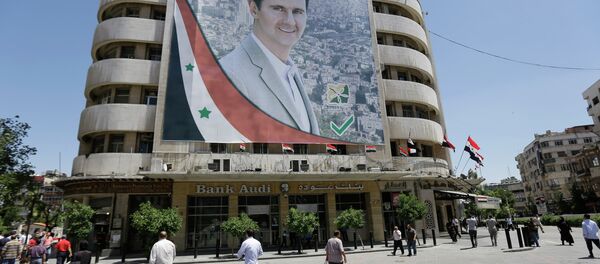 16 September 2015, 10:36 GMT
President Assad said that the West was waging a war of words against him just like it was against Russian President Vladimir Putin.
"The developments in Syria look much like what is now happening in your region," Assad told Russian media on Tuesday.
"Ever since the coup in Ukraine President Putin has been viewed by western media as  an enemy, a czar, a dictator clamping down on the opposition, someone who came to power in an undemocratic way even though he was elected as a result a popular vote recognized by the West.  No longer. This is what the western propaganda campaign is all about," Bashar Assad added.
He also said that the Western powers were working hard to bring about regime changes in Syria, Russia and other countries.
"They do not recognize others as partners and sovereign states. All they want is to replace someone who they don't like with one who would be serving their interests, not his own country's," Bashar Assad emphasized.
Syria has been mired in a civil war since 2011, with government forces battling against multiple opposition militias and radical groups.
Since the beginning of the war, the United States and some of its allies have supported the moderate Syrian opposition and called for Assad's resignation, while Russia and Iran recognized Assad as the only legitimate Syrian authority.