Germany plans to take in 800,000 migrants this year alone and millions more in the coming years. Fully aware of the most immediate downsides of this decision, the Germans are still taking the risk because they realize the long-term benefits this could bring them, Eliza Litak wrote in an article carried by wPolityce.pl news portal.
Immigration could turn around Germany's main weakness – its precarious demographic situation – and help pay the pensions of tomorrow. Immigrants are significantly younger than the domestic population. Given Germany's major demographic challenges, this is welcome news.
Many immigrants bring specific skills and the ability and willingness to work. Opening the German labor market quickly and comprehensively to migrants would provide a boost to the German economy. The substantial increase to the cheap labor supply would also contribute to increased German output.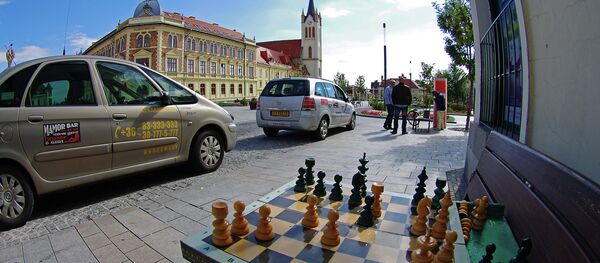 14 September 2015, 12:03 GMT
Local industry groups, like Porsche, Daimler, Deutsche Post, Evonik and others, are ready to hire the new arrivals. With unemployment at a record low the German companies welcome the influx of cheap labor.
There is also a political angle to this, Eliza Litak wrote. Paradoxically the chaotic nature of this whole process is playing right into the hands of the German authorities who can handle the situation unlike the so-called "transit countries" which could be destabilized.
Greece is a prime example of this: the deeper it is plunged into chaos by the uncontrolled inflow of migrants from the Middle East and North Africa, the less attractive it becomes economically and financially and more dependent on its main creditor – Germany.
Hungary, which is trying to be less dependent on Brussels, would also find itself on the losing end, accused of mistreating migrants moving across its territory.
Poland, Slovakia and the Czech Republic would likewise be shown their place thus ensuring their non-interference in Berlin's planned rapprochement with Russia in the form of an agreement on the Nord Stream-2 gas pipeline project.
Germany's stated desire to accommodate millions of migrants who are seeking a better life in the West makes it the epitome of European moral values such as solidarity, responsibility and Christianity.
"It is Angela Merkel thankful migrants are calling 'mother,' it is Germany the migrants are flocking to boosting Germany's image as a bulwark of European stability and prosperity. All this reminds one of the popular joke where football is described as a game where many men are chasing the ball and Germans always end up the winners," Eliza Litak noted.
"There is one 'but' here though: it may not be long before everyone sees that it's no longer football we are talking about, but rugby and the stakes are way higher than we imagined," she wrote in conclusion.