Washington uses everything from military intelligence to commercial organizations to remove foreign governments that it considers unwanted. At the same time, the United States keeps increasing its firepower, establishing military bases across the world.
The current American "empire" consists of over 1,400 military bases in more than 120 countries. Meanwhile, Russia has only 12 military bases, one of which is in Syria that the Americans are currently trying to close down. Washington tried to do the same in Crimea, Assange said.
The American government doesn't act on behalf of its people, but serves to the interests of largest US corporations, the WikiLeaks founder said.
The US government uses unorthodox methods to achieve its objectives — such as the use of mercenaries and other third parties to fight its wars, Assange said.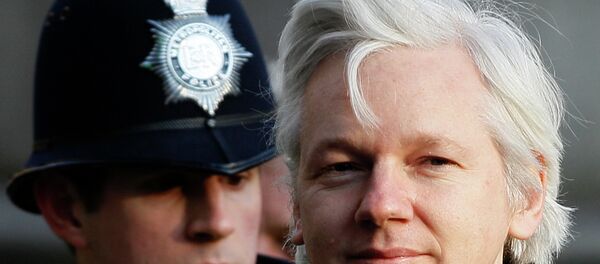 1 September 2015, 16:08 GMT
Thus, if there is a government that the United States doesn't like and considers to be a threat to its perception of the world, Washington will do everything to try to get rid of it.
Assange, who has been residing in the Ecuadorian embassy in London under asylum for over three years, has been wanted for questioning by  Swedish authorities since 2010 over accusations of unlawful sexual coercion and rape.
The activist has denied the accusations, stating that Swedish extradition attempts are aimed at sending him to the United States, where he faces espionage charges for publishing thousands of leaked top-secret military documents and diplomatic cables online.