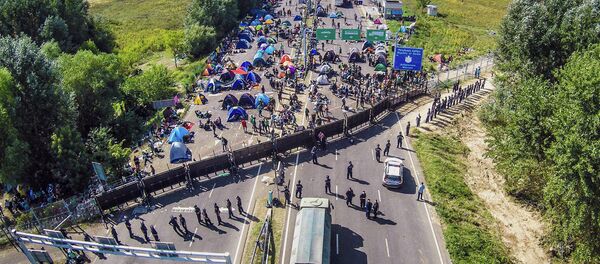 17 September 2015, 14:10 GMT
ROME (Sputnik) — Earlier in the day, Italian Foreign Minister Paolo Gentiloni said the actions of the Hungarian government were "unacceptable" and not sustainable in the long run.
"We have to say that the EU was set up to break down the walls rather than to build them," Italian Prime Minister Matteo Renzi said at a joint press conference with Luxembourg Prime Minister Xavier Bettel.
In August, Hungary completed the construction of a 108-mile fence on the country's southern border to curb the influx of migrants. The country's authorities recently decided to extend the barrier along its borders with Croatia and Romania.
Italy is one of the major entry points for undocumented migrants arriving in the European Union. Many people also use Hungary as a transit point on their journey to wealthier EU states where they intend to apply for asylum.
Over 500,000 migrants and refugees have arrived in the European Union since the beginning of 2015, according to the European Commission, fleeing violence in their home countries, primarily in the Middle East and North Africa.