MOSCOW (Sputnik) — Roscosmos and the European Space Agency (ESA) propose to postpone the launch of a space orbiter to Mars under a joint Russia-EU research program until March 14, 2016, citing technical reasons, Russia's Federal Space Agency said Friday.
"Roscosmos and ESA recommend to postpone the ExoMars-1 mission from January to March next year due to the need to replace equipment on the Schiaparelli Mars landing demonstration craft," Roscosmos said in a statement.
According to the statement, specialists have discovered problems with the fuel supply sensors in the pipelines of the demonstration landing craft, and the sides agreed to carry out an additional inspection of the mission equipment.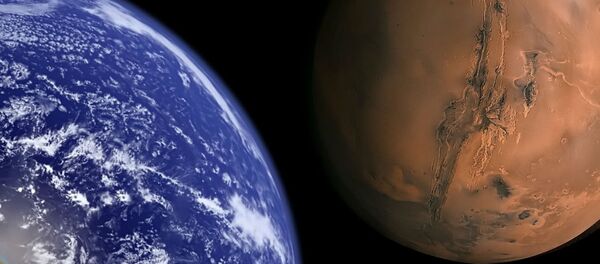 14 September 2015, 16:52 GMT
ExoMars mission managing board is expected to announce the exact date of the launch on September 24.
Overall, Roscosmos and ESA have agreed to launch two ExoMars missions scheduled for 2016 and 2018.
In 2016, it is planned to launch the orbiter, the main goal of which is to study the planet's atmosphere and to conduct data exchange with a rover. The rover itself is scheduled to be sent to Mars in 2018, which will be the main part of the program.