Two years after both the US and the UK dropped plans to launch a bombing strike against the government of Bashar al-Assad in Syria over claims he was using chemical weapons against opposition forces, there are growing calls for military assistance to be given to Assad by the West. Sarkozy told Le Parisien newspaper:
"We must build the conditions for the creation of a liberation army of Syria and rely on neighbors as well as more dialogue with Russia and Putin." 
It follows a similar call from the White House whose spokesman, Josh Earnest, said President Barack Obama's administration was willing to hold "tactical, practical discussions" with Moscow on operations in Syria and the fight against the Islamic State group.
Josh Earnest: USA would welcome Russian help to defeat ISIL, but not to help the Assad regime.

— Steven Dennis (@StevenTDennis) September 17, 2015
Since civil war in Syria began in 2011, tens of thousands have died and millions have been displaced – leading to one of the worst refugee crises in living memory. In 2013, the US called for military action against Assad, but airstrikes were withheld following warning from Russian President Vladimir Putin.
Assad, Opposition and Hard Feelings
There were calls in 2013 for airstrikes against Assad's government, when allegations emerged that he had used chemical weapons against opposition forces. However, Putin said it was "ludicrous'' that Assad would use them at a time when his forces were gaining ground against the rebels.
If Assad & the Syrian army fall today, who will take over? al-Qaeda's Zawahiri? ISIS' Baghdadi? Erdogan & his army? Obama & his 30 "rebels"?

— Rana Harbi (@RanaHarbi) September 14, 2015
In August 2013, the US Congress was due to vote on military airstrikes against Assad, but this was postponed following the defeat in the UK of Prime Minister David Cameron's motion to parliament calling for military action over Syria.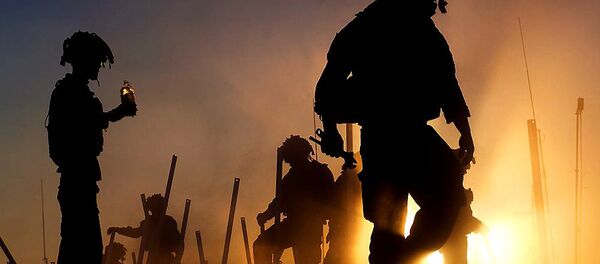 16 September 2015, 15:48 GMT
However, there were widespread reports of the CIA being on the ground in both Turkey and Syria channeling aid to the opposition.
In October 2014, the Pentagon admitted that one of the airdrops of weapons intended for Kurds in the besieged Syrian town of Kobani almost certainly ended up in the hands of ISIL.
Ironically, after years of bitter acrimony against Assad, the West is now poised to offer assistance to him in an effort to pick up the fight against ISIL.