ATHENS (Sputnik) — SingularLogic, the company that officially covers the logistics of the Greek snap elections, will publish its first official estimates after having counted 10 percent of the vote, a source with knowledge of the situation confirmed to Sputnik Sunday.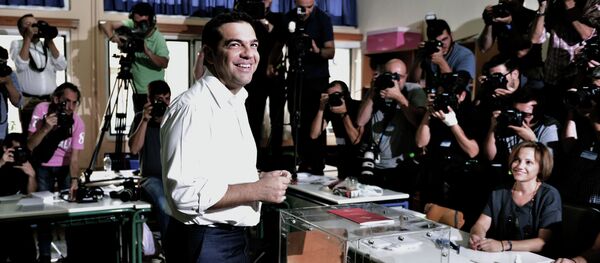 20 September 2015, 16:00 GMT
The estimates are expected to be released at 9 p.m. (18:00 GMT.)
Snap parliamentary elections in Greece concluded on Sunday. The vote was held after then-Prime Minister Alexis Tsipras resigned from the post in August and called for the parliamentary elections to gain public support for austerity reforms he backed to receive financial aid from international creditors and keep the country in the eurozone.
According to exit polls data, the left-wing Syriza party is slightly ahead the New Democracy party, having obtained some 30-34 percent of votes.