The institute called on officials in the cities which still have Soviet-era memorials to demolish them, sending a book about these types of monuments to the Russian ambassador, Polish Radio reported.
On Monday, the institute warmly welcomed a move by officials in the city of Pieniezno, who recently dismantled a monument to Ivan Chernyakhovsky, decorated Ukrainian Soviet General killed in action during the liberation of northern Poland.
© Photo : Press-service of the Russian Embassy in Poland
Chernyakhovsky monument in Poland. File photo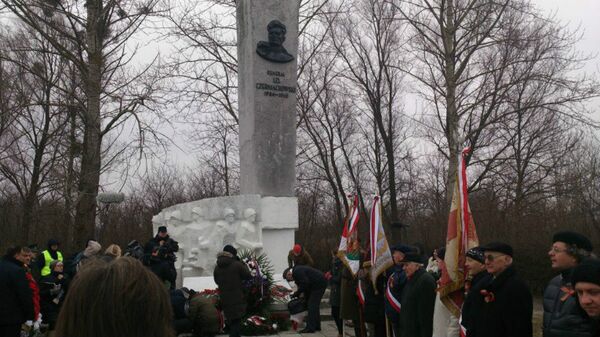 Chernyakhovsky monument in Poland. File photo
© Photo : Press-service of the Russian Embassy in Poland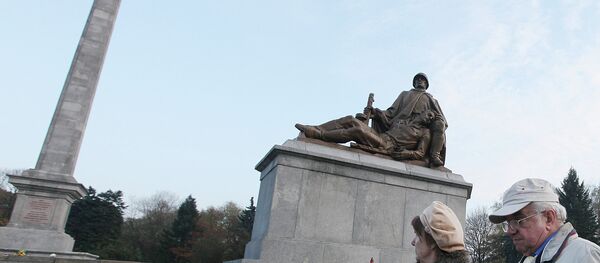 17 September 2015, 15:11 GMT
Last week, Russia summoned the Polish ambassador to protest the removal of the monument, which stood near the spot where Chernyakhovsky was killed. 
The institute responded by sending Sergei Andreyev, Russia's Ambassador to Poland, a book on Soviet monuments in Poland. The Russian embassy earlier voiced its "deep indignation" over the monument's removal.
The Institute also released a statement, calling on officials in cities and towns across Poland where Soviet-era monuments remain to dismantle them.
"From the beginning of the institute's existence, we have been of the opinion that these types of monuments, dedicated to criminals, should be disassembled. We believe that the authorities of Pieniezno have acted correctly," Pavel Ukelsky, the Vice-Head of the institute noted. 
He added that Poland has "many museums willing to take artifacts relating to our country's totalitarian past, and to the communist rule which was imposed upon us."
Ukelsky suggested that "this is not about anti-Russian actions," noting that dismantling monuments to Soviet war dead is actually about "settling our past and eliminating all alien symbols of the totalitarian machine which was imposed on Poland."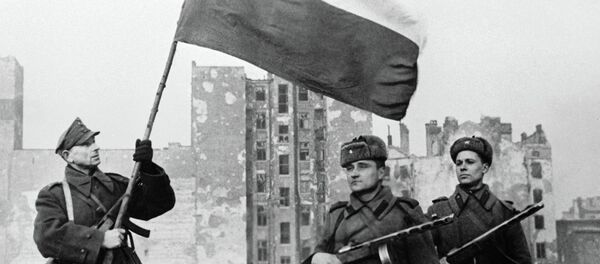 21 August 2015, 12:43 GMT
Following the collapse of the Soviet bloc, authorities in Pieniezno have called Chernyakhovsky the 'butcher of the Home Army', for his involvement in the wartime disarmament and arrest of the leadership of the Wilno Branch of the Armia Krajowa, which swore allegiance to the Polish government-in-exile in London. At the time, Moscow backed the Polish Committee of National Liberation, formed in Chelm, eastern Poland in 1944 as the Soviets continued their advance against Nazi forces into Europe.
Institute of National Remembrance expert Andrzej Zavistovsky noted that the estimated 100 Soviet-era monuments to war dead which still remain in Polish towns and cities have "become a kind of seal, which Soviet authorities put up in the Polish lands subordinated to them."
It bears mentioning that the vast majority of the monuments to Soviet war dead were in fact put up by the Polish authorities, often immediately following the end of the war, and were designed by Polish sculptors.