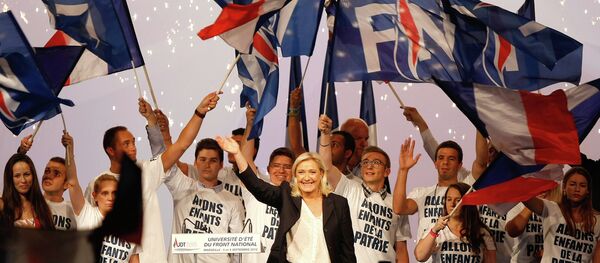 17 September 2015, 14:41 GMT
The charges stem from comments made in 2010 by Marine Le Pen, in which she compared Muslim street prayers to the Nazi occupation, the Lyon prosecutor's office said on Tuesday.
Charges cited by the office include "inciting discrimination over people's religious beliefs."
Le Pen made the comments while campaigning to win party leadership from her father.
"I'm sorry, but for those who really like to talk about World War II, if we're talking about an occupation, we could talk about the [street prayers], because that is clearly an occupation of territory," Le Pen said at a FN rally in Lyon.
"It is an occupation of sections of the territory, of neighborhoods in which religious law applies – it is an occupation. There are no tanks, there are no soldiers, but it is an occupation nevertheless, and it weighs on people," she added.
An initial investigation into her comments started and finished in 2011. The current investigation was reopened in July 2014 after a complaint from a rights group, and her immunity as a member of the European Parliament was rescinded following a vote requested by French authorities.
Le Pen has said her trial is a "scandal".
"It is a scandal that a political leader can be sued for expressing her beliefs," she was quoted as saying by Reuters. "Those who denounce the illegal behavior of fundamentalists are more likely to be sued than the fundamentalists who behave illegally."
In a comment to Agence France Presse the politician expressed her intent to attend the court hearing, scheduled for October 20.
Leftward swings in Spain and Greece. But not France. Nat front on the up there. Watch 2017 for Le Pen. La difference

— Arun G (@MagnusOpus33) September 13, 2015
Despite growing in popularity, the FN has suffered after a rift between Marine and her father and the party's founder Jean-Marie Le Pen led to her ousting him as the party's head.
Since assuming the party's leadership in 2011, Marine Le Pen has attempted to soften the party's image.