WASHINGTON (Sputnik) — US deployment of atomic weapons in Germany could trigger an arms race while marking a stark policy shift from a few years ago when cries for nuclear nonproliferation rang across Western Europe, experts told Sputnik.
On Tuesday, German media reported that the United States would station 20 next-generation nuclear weapons at the Buechel military air base in western Germany, information obtained from a line item included in the 2015 US budget.
"These US nuclear weapons deployments will likely create the conditions for a new arms race throughout Europe," Global Network Against Weapons and Nuclear Power in Space Coordinator Bruce Gagnon told Sputnik. "It is a dangerous and provocative move on the 'Grand Chess Board' by Washington."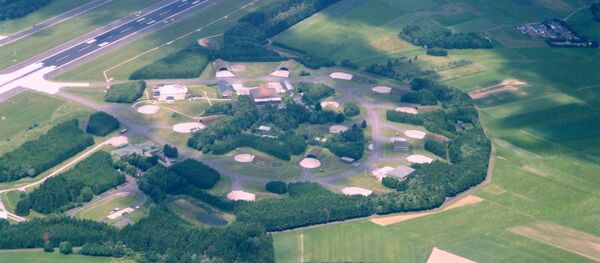 23 September 2015, 14:02 GMT
Russian officials have warned that if the US deploys B61-12 guided nuclear bombs to Germany it would violate the Non-Proliferation of Nuclear Weapons Treaty (NPT), and could force Moscow to exit the Intermediate-Range Nuclear Forces Treaty (INF).
Pentagon and State Department officials have claimed that the US nuclear posture in NATO ally countries is consistent with all treaty obligations.
Gagnon, however, claimed that the US nuclear upgrades aim to destabilize the region and prevent Europe from developing positive economic and political relations with Russia.
"Clearly, this new generation of US nuclear weapons are not needed in Europe," Gagnon explained. "In fact, these new weapons will only destabilize the region even more. Sadly, that is exactly what the US wants to do."
Washington, Gagnon argued, wants Moscow to react so the US government can demonize Russia and justify greater American mobilization in Eastern Europe.
"What we need is for Moscow to make stronger direct appeals to the people of Europe and beyond to oppose the US attempts to control the world economically and militarily," Gagnon suggested.
St. John's University Professor of Government David Kearn told Sputnik that the planned deployment will enhance US and NATO deterrent capabilities in response to Russia's involvement in Ukraine, but is unlikely to upset the "balance of forces" in Europe in any meaningful way.

23 September 2015, 09:15 GMT
Kearn argued that US nuclear activities in Europe are mostly symbolic in that Russian capabilities, including in the tactical nuclear realm, would still dwarf the opposition.
"What is striking is just how much things have changed," Kearn observed. "Consider this shift in policy in light of the widespread political pressure across Western Europe for the removal of all tactical nuclear weapons only five years ago."
The US move may be subjectively provocative in Russian eyes, Kearn elaborated, but this is unfortunately what happens in the "action-reaction dynamic unleashed when these type of insecurity spirals are initiated."
"Consider that Germany was planning on retiring all of its nuclear capable strike aircraft only a few years ago, but now have quietly decided to upgrade and maintain a small fleet," Kearn underlined.
The NPT Treaty has been ratified by some 191 states and entered into force in 1970. Moreover, the United States and Russia signed the INF Treaty in 1987 to eliminate the threat of nuclear missiles capable of striking targets on the European continent.