WASHINGTON (Sputnik) — US Secretary John Kerry and Russian Foreign Minister Sergei Lavrov will discuss the current crises in Syria and Ukraine on the sidelines of the UN General Assembly session in New York, State Department spokesperson John Kirby told reporters.
"The Secretary's meeting with Foreign Minister Lavrov is just another and continuation of a dialogue and communication that they have," Kirby said on Thursday. "I suspect they'll talk about a lot of issues. Foremost among them will be what's going on Syria."
Kirby noted that the United States remains concerned about Russia's activities and intention in Syria.
"What we are going to be looking at and trying to do is close that gap as much as possible," the spokesperson said.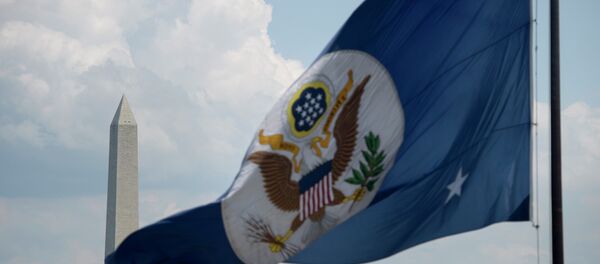 24 September 2015, 20:49 GMT
Kirby also said that the current situation in Ukraine will be "very high" on the agenda of the bilateral meeting.
"Obviously, Syria is very much on the Secretary's mind as is Ukraine… I don't know of a conversation that he's had with Foreign Minister Lavrov where they don't address what's going on in Ukraine. It will absolutely be on the agenda. And it will be high up there," Kirby concluded.
Earlier on Thursday, the White House and the Kremlin both confirmed a meeting will take place between US President Barack Obama and Russian President Putin to discuss the situation in Ukraine and the crisis in Syria.
The annual general debate at the UN General Assembly will take place on September 28 — October 3.
Putin will address the General Assembly about the crises in Ukraine and Syria as well as the international fight against terrorism. In his address, the Russian president will also speak about the issue of sanctions as a unilateral measure.