BRUSSELS (Sputnik) – The Russian government will assess the possibility of providing natural gas price discounts for Ukraine every three months, Russian Energy Minister Alexander Novak said Friday.
"As requested, the Russian government considers forming prices on a quarterly basis by offering discounts on the export duty in order to provide competitive prices on the level of European countries bordering Ukraine," Novak said.
Novak initialled a winter gas package protocol, committing Russia to offer discount gas prices over the next six months, with his Ukrainian counterpart and the European Commission chief of energy union.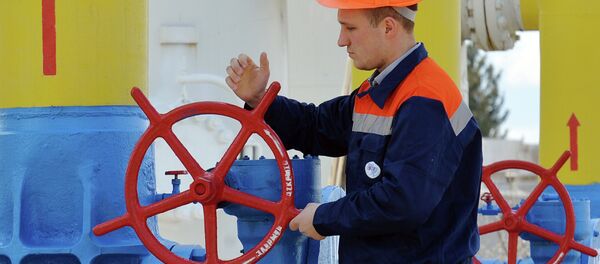 25 September 2015, 21:33 GMT
Novak also said that Russia's, Ukraine's and the European Commission's mutual commitments should ensure the safe transit of Russian natural gas to Europe via Ukraine this winter.
"Today we have agreed on the mutual commitments, which should provide in the current winter season the safe passage of gas through Ukraine to European consumers," Novak said at a press conference.
The Russian official noted that Ukraine has committed to facilitate the safe transit of Russian gas to Europe for the upcoming several months, including organizing and fundraising from international financial organizations and banks.
"We already know that agreements have been reached to allocate $500 million in the near future to ensure gas storage in the amount of 2 billion cubic meters," Novak asserted.
Alexander Novak noted that Gazprom has sent an addendum to the existing gas contract with Naftogaz to the company as part of the trilateral winter package.
"As far as I know, Alexei [Miller, Gazprom CEO] told me Gazprom had signed and sent to Naftogaz the draft of the addendum," Novak said at a press conference in Brussels.
He said the Ukrainian energy company is currently reviewing the offer.