WASHINGTON (Sputnik) – Syrian rebel fighters trained by the United States provided ammunition and equipment to an al-Qaeda-linked group this week, a spokesman for the Pentagon has confirmed.
The US Central Command (CENTCOM) said on Wednesday around 70 participants of the US train-and-equip program returned to Syria from a training camp in Turkey over the weekend. The group that operates as the New Syrian Force (NSF) was later thought to have defected to the Nusra Front.
"Today the NSF unit contacted Coalition representatives and informed us that on Sept. 21-22 they gave six pick-up trucks and a portion of their ammunition to a suspected Nusra Front intermediary," Navy Capt. Jeff Davis said as quoted by The Blaze.
Refuting the initial claims of defections among NSF fighters on Thursday, Davis previously said all coalition-issued weapons and equipment were "under the positive control" of the NSF.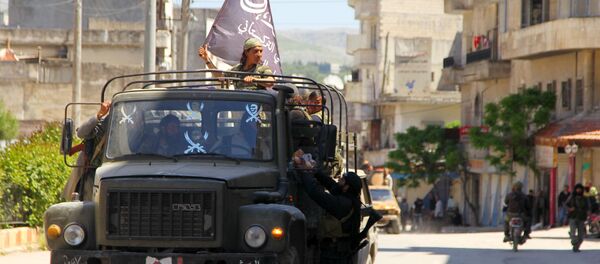 23 September 2015, 16:08 GMT
Accounts allegedly associated with the Nusra Front tweeted photographs of US-made rifles on Wednesday. It was claimed the rifles belonged to the NSF.
First reports of so-called moderate Syrian fighters, which were trained to fight militant groups like the Nusra Front and the notorious ISIL jihadist group, claimed the NSF had given up arms in exchange for safe passage.
Davis said the Pentagon believed the reports that NSF fighters gave up weapons to the Nusra Front were false at the time and that the published photograph was an old "repurposed" image.
Earlier this month, the Pentagon admitted that only five out of the over 5,000 fighters trained in the $500-million US program were actually fighting on the ground. The figure was later revised to nine.