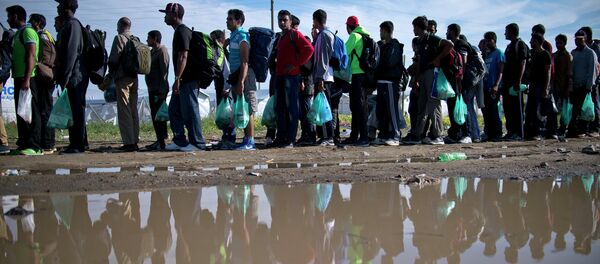 24 September 2015, 06:18 GMT
The US invasion in Iraq, as well as NATO-led airstrikes in Libya and support of the so-called Syrian moderate rebels have backfired. Not so much on Washington, but its ally Europe, which is suffering from the largest migrant crisis since World War II, with hundreds of thousands fleeing violence in war-torn regions in the Middle East and North Africa, author and expert in political and military affairs Brian Cloughley noted.
According to Brian Cloughley, the US war in Iraq has displaced about 1 in 25 Iraqi citizens, while the violent expansion of the ISIL jihadist group contributed to more Iraqis fleeing their homes.
The author cites a statement from Amnesty International which said, "The international community has stood and watched as Libya has descended into chaos since the 2011 NATO military campaign ended, effectively allowing militias and armed groups to run amok. World leaders have a responsibility and must be prepared to face the consequences, which include greater levels of refugees and migrants fleeing conflict and rampant abuse in Libya."
Meanwhile, let's remember an emotional statement by then-US Secretary of State and current Democratic Party presidential hopeful Hillary Clinton with regard to the violent death of Libyan leader Muammar Gaddafi, who was killed after the West had launched a military intervention to oust him. He was captured by Western-backed National Transitional Council forces and died from multiple bullet wounds.
When told of reports of Gaddafi's death by an aide, Hillary Clinton jokingly said: "We came, we saw, he died," she later stated in a CBS interview. Interestingly, she arrived in the Libyan capital of Tripoli the next week to hold a meeting with Libya's National Transitional Council.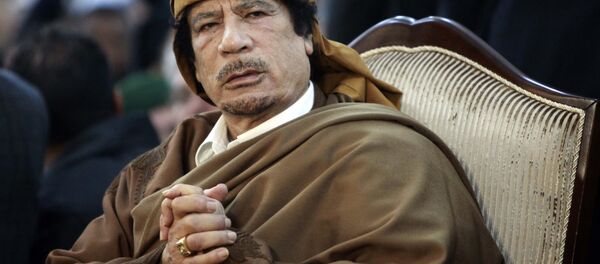 17 September 2015, 13:12 GMT
However, the Arab Spring has not brought the "democracy" the West had hoped for. The country has been in a state of turmoil since 2011, when an uprising led to a civil war and the overthrow of Gaddafi. Currently, countless numbers of Libyan migrants are crossing — oftentimes resulting in multiple casualties — the Mediterranean in boats in search of a safer life.
The International Organization for Migration has recorded 2,373 cases of migrants who died while attempting to reach Europe by sea this year.
Thousands more have been picked up from dingy boats and brought to temporary asylum centers in southern Europe.
Meanwhile, thousands of Syrian refugees are flooding Europe with a few million in neighboring countries while their country is has been mired in a civil war since 2011, as government forces loyal to Syrian President Bashar Assad fight several opposition and radical Islamist militant groups, including the Nusra Front and ISIL.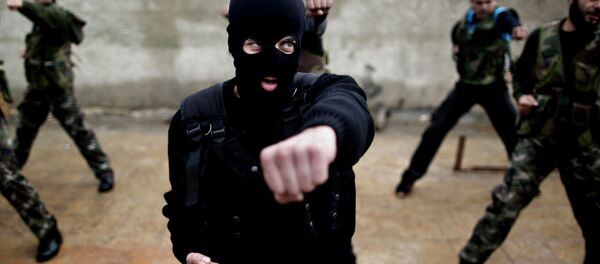 16 September 2015, 15:18 GMT
Since the beginning of the war, the United States and some of its allies have supported the moderate Syrian opposition and called for Assad's resignation, while Russia and Iran recognized Assad as the only legitimate Syrian authority.
Earlier this month, US Commander of Central Command (CENTCOM) General Lloyd Austin confessed that "four or five" of the US-trained Syrian fighters are currently engaged in combat against Islamic State in Syria.
At the same time, US Department of Defense spokesperson Peter Cook said that the location of Syrian rebels who had participated in the US train-and-equip program to fight Islamic State militants was unclear, adding that Washington "would have concerns" if any of the rebels had joined such groups as al-Nusra Front, al-Qaeda's affiliate in Syria.
"The belief that there could be any grouping of insurgents that could be described as "moderate rebels" is bizarre and it would be fascinating to know how Washington's planners classify such people. It obviously didn't dawn on them that any person who uses weapons illegally in a rebellion could not be defined as being moderate," Cloughley wrote for the Strategic Culture Foundation.
If Assad repeats the unfortunate fate of Muammar Gaddafi, Hillary Clinton's successor US Secretary of State John Kerry would unlikely react as she did, Cloughley believes.
"But he will be able to take heart from the fact that the ensuing cataclysmic shambles will have been facilitated by 'moderate' rebels. All five of them," the author concluded.